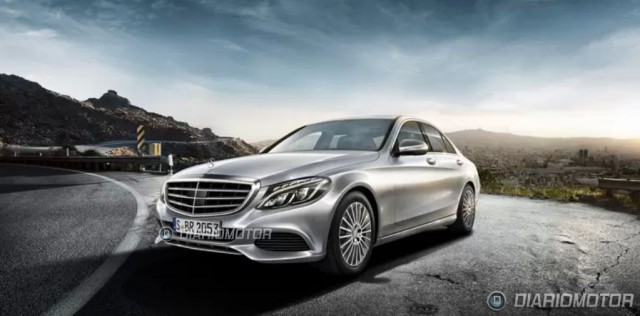 The first official images of the 2015 Mercedes-Benz C-Class have just leaked after Mercedes-Benz recently revealed its interior in full.
It is currently unknown how these images first became available, but they seem to be the real deal and highlight just how much styling inspiration the 2015 Mercedes-Benz C-Class has taken from the recent introduced 2014 Mercedes-Benz S-Class.
As previous spy images have shown, the 2015 Mercedes-Benz C-Class looks essentially like smaller version of the new S-Class even featuring very similar taillights. Unfortunately, no images have leaked of the rear-end just yet to confirm this. Nevertheless, the 2015 Mercedes-Benz C-Class also features a side profile clearly inspired by the new 2014 Mercedes-Benz CLA-Class.
One of the most eye-popping details of the new 2015 Mercedes-Benz C-Class is that it features automatic air recirculation and most importantly, tunnel detection through satellite navigation which adjusts the air conditioning when going through tunnels to avoid circulating toxic air. Additionally, the 2015 C-Class will debut with an AIR BALANCE package which offers active fragrance and ionization, while also coming with a detailed heads-up display showing information such as speed, navigation and speed limits.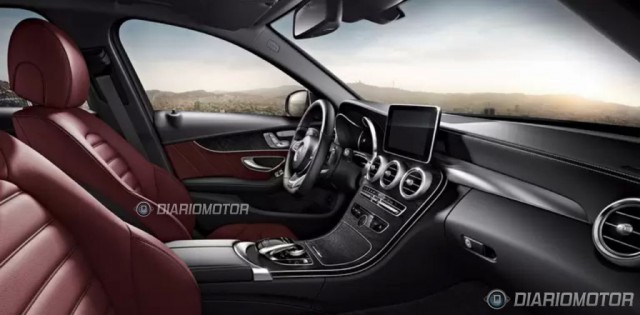 One of the key goals when creating the 2015 Mercedes-Benz C-Class was to make it light. Consequently, Mercedes-Benz put a strong focus on its new aluminium hybrid body which is around 70 kg lighter than the steel architecture of the outgoing Mercedes-Benz C-class. All told, the 2015 Mercedes-Benz C-Class weighs around 100kg less than the current car.
Additionally, it has been confirmed that the 2015 Mercedes-Benz C-Class will be available with all the passive and active safety technology currently available on the S-Class and E-Class. One interesting feature is that it features a front passenger airbag that can detect a child seat.
Production of the new C-Class will take place at various locations including Germany, and most notably, the Mercedes-Benz plant in Alabama, United States.