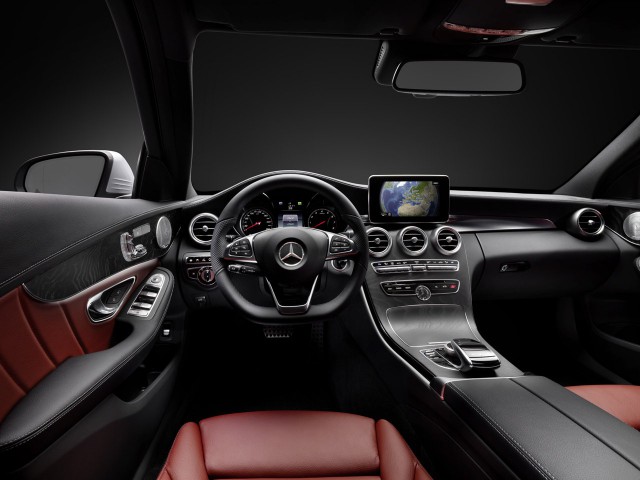 Following recent leaked images showcasing the 2015 Mercedes-Benz C-Class, the German automaker has decided to reveal some of the key new features of the latest-gen C-Class ahead of its world debut soon.
Starting with the prominent tablet inspired touchscreen system, Mercedes-Benz has revealed that it'll be available in both 7-inch and 8.4-inch sizes and promises to work very similarly to a smart phone with a crystal clear display and easy navigation.
One of the most eye-popping details of the new 2015 Mercedes-Benz C-Class is that it features automatic air recirculation and most importantly, tunnel detection through satellite navigation which adjusts the air conditioning when going through tunnels to avoid circulating toxic air. Additionally, the 2015 C-Class will debut with an AIR BALANCE package which offers active fragrance and ionization, while also coming with a detailed heads-up display showing information such as speed, navigation and speed limits.
One of the key goals when creating the 2015 Mercedes-Benz C-Class was to make it light. Consequently, Mercedes-Benz put a strong focus on its new aluminium hybrid body which is around 70 kg lighter than the steel architecture of the outgoing Mercedes-Benz C-class. All told, the 2015 Mercedes-Benz C-Class weighs around 100kg less than the current car.
Additionally, it has been confirmed that the 2015 Mercedes-Benz C-Class will be available with all the passive and active safety technology currently available on the S-Class and E-Class. One interesting feature is that it features a front passenger airbag that can detect a child seat.
Production of the new C-Class will take place at various locations including Germany, and most notably, the Mercedes-Benz plant in Alabama, United States.