Mode Carbon are on a roll when it comes to tuning E92 BMW M3′s. We recently reported on their stunning Santorini Blue car fitted with the Mode Carbon Variant 1 GTS Lip and LM Series Diffuser, of course in carbon fiber, the deep blue of the cars body looks great against the added black parts that match the intricate CSL style wheels that have also been coated black.
Here we have not one, but two more E92's that have been given then Mode Carbon treatment. First up an M3 in our favourite colour, the deep rich Monte Carlo blue car the is perfectly balanced with its Rust Brown Extended leather interior. This beauty receives the Mode Carbon GT4 Motorsport Splitter and Side Skirts in matte carbon finish.
Under the bonnet is a serious piece of kit, the ESS VT3 775 with an ESS Tune making some godly noise through the Meisterchaft exhaust. No expense was spared in the stance and handling departments either, with the yellow Brembo BBK glaring through the 19" BBS fi's in 'ghost silver' finish, dropped to perfection on Ohlins Coilovers.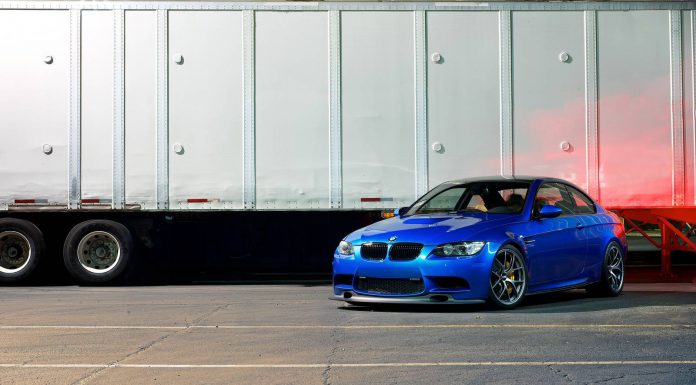 Next up is a more contemporary colour but one that looks sublime on the aggressive curves of the M3. The frozen white paint is off set brilliantly by the glossy carbon fibre. This beauty is accentuated with our Mode Carbon GTS Variant 2 Front Spoiler, LM-Series Rear Diffuser, and Bootlid Spoiler.