Today will see the NASCAR Sprint Cup Series take on the Ford EcoBoost 400 race which will be the season finale at Homestead-Miami Speedway. Ford has announced that two of its cars will be used as the pace cars; one is the Need For Speed Mustang which will play this role in the Sprint Cup race and a Ford F150 which will pace the Ford EcoBoost 200 NASCAR Camping World Truck Series on November 15th.
The need for Speed Mustang has seen a lot of media attention since it was first revealed and thanks to its sponsors such as Forgiato Wheels who have also played a great role in Motorsports this year as seen in the Lamborghini Super Trofeo Series North America. The car was showing at SEMA 2013 last week, in fact some of these photos are from the event at the Ford Booth again courtesy of Forgiato Wheels.
Ford maintains that the Need For Speed Mustang was solely created for the movie, boasting of 22-inch wheels, a custom widebody sporting larger intakes. Come Sunday, the Mustang will be driven by Ramon Rodriguez, one of the stars of the movie. The designers focused on reducing aerodynamic drag by using low-profile mirrors and extended rocker panels. The splitter has been redesigned to provide better handling at high speeds while the rear spoiler and diffuser were created to improve airflow, reducing drag and giving additional traction for high-speed acceleration.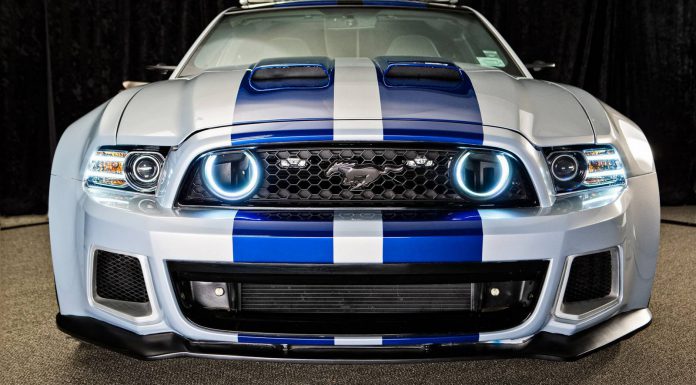 Tim Duerr, Ford Racing motorsports marketing manager said,
When the opportunity to showcase the 'Need for Speed' Mustang at our marquee event came up a few months ago, it was a no-brainer to make it the centerpiece of Ford Championship Weekend. We have always tried to incorporate some of our latest products that make up Ford's versatile car and truck lineup, and we feel the three vehicles we're using this year continues that trend.