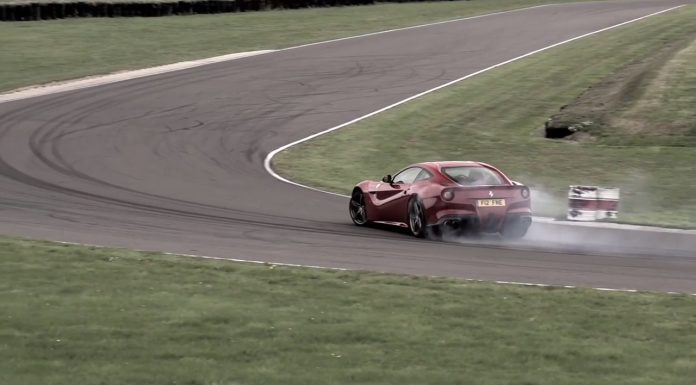 Chris Harris is known for three things. His epic videos, his spectacular ability to drift pretty much everything, and finally his famous fall-out with Italian legends Ferrari.
[youtube]http://youtu.be/cjp1xjOzJqY[/youtube]
Harris seems to have been making amends with the supercar kings and they have let him loose with the Ferrari F12 Berlinetta press car at Angelsey Circuit, and knowing that Harris loves his cars sideways, kindly supplied him with four spare sets of tyres! You know what to expect!
The F12 sure packs more than enough power to get tyres smoking. The 6.3 liter V12 engine found in the Ferrari F12 Berlinetta has a maximum power output of 740 hp, which translates to a specific output of 118 hp per liter. Torque reaches a peak of 690 Nm, 80 per cent of which is available at just 2,500 rpm. That engine is mated to an F1 dual-clutch transmission, which has closer gear ratios. The F12 Berlinetta boasts a weight-to-power ratio of just 2.1kg/hp.
The result is that the new Ferrari F12 Berlinetta accelerates from 0-100 km/h in 3.1 seconds and from 0 to 200 km/h in 8.5 seconds. It also completes a lap of the Fiorano circuit in 1'23", faster than any other Ferrari road car. The Ferrari F12 Berlinetta has a top speed of over 340 km/h.