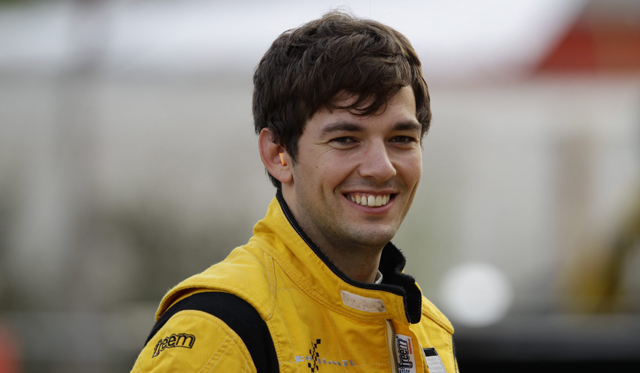 24 Hours of Nurburging 2013 SP9 Class Winner and two-time class winner at the 24 Hours of Abu Dhabi, Sean Edwards has been killed in a fiery crash at Queensland Raceway, Australia.
Edwards, the son of former Formula One racer Guy Edwards, was the passenger in a green and black Porsche 996 911 instructing a 20-year-old male around the track during a private event.
However, in a fatal turn of events, the Porsche left the track and smashed through the tire wall and into a concrete barrier before bursting into flames at turn 6. Emergency crews spent hours trying to extract the driver who has sustained serious injuries. Unfortunately, Edwards was killed doing what he loves.
Born on the 6th of December 1986, Edwards was leading the 2013 Porsche Mobil 1 Supercup season before his tragic passing with him competing for the Team Allyouneed by Project 1 team. His performances this Supercup season barely begin to scratch the surface of his previous successes.
In 2006, Edwards won the FIA GT3 European Championship piloting the Porsche 997 GT3 Cup car of Tech9 Motorsport. In 2007, he entered the FIA GT2 Championship racing again for the Tech9 Motorsport team where he placed 15th overall. Following on from 2007, Edwards continued to compete in various classes in the FIA GT Championship including the Citation Cup and making a return to the GT3 championship.
In 2010, Edwards entered the Porsche Supercup Series and has raced there ever since. Last year he placed 5th overall and came home second overall in the Porsche Carrera Cup German championship in second.
Improving upon these results, Edwards came home victorious in the 2012 24 Hours of Dubai with his three teammates behind the wheel of a Mercedes-Benz SLS AMG GT3 in the A6 class. He backed up this success for this year's event, coming home 1st yet again in the A6-Pro class.
His last great racing achievement came at this year's 24 Hours of Nurburgring where behind the wheel of a Mercedes-Benz SLS AMG GT3 yet again, he won with his teammates in the SP9 class.
Away from the track, Edwards also made a brief cameo in the current Formula One flick Rush where he played the role of his father in helping to save Niki Lauda from his burning Ferrari.