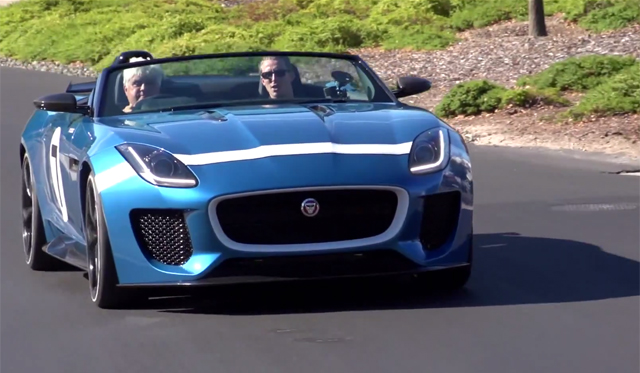 In the latest episode of Jay Leno's Garage, the talk show host didn't just have the chance to drive the 2014 Jaguar F-Type V8 S but to also get behind the wheel of the one-off Jaguar F-Type Project 7 Speedster.
While speaking of the Jaguar F-Type Project 7 Speedster, its design and creation was led by Jaguar's Director of Design, Ian Callum and has been inspired by the Jaguar D-Type racing car produced in the mid-1950's. In fact, the Jaguar D-Type was an extremely successful racer and managed to with the 24 Hours of Le Mans in its class in 1955, 1956 and 1957.
[youtube]http://www.youtube.com/watch?v=gTLCf_KCsI8#t=823[/youtube]
To turn the regular Jaguar F-Type convertible into a true speedster, Jaguar removed the entire fabric roof and its lifting system and fitted the car with a low-slung windscreen, a new livery as well as a prominent rear buttress behind the driver's head which includes a rollover hoop. Other design differences include a new carbon fiber front splitter, side skirts, a larger rear diffuser, 20-inch Blade forged-alloy wheels completed with carbon fiber accents, new bonnet vents, side mirrors, larger air intakes at the front as well as the prominent fixed rear spoiler with a 14-degree angle.
Under the hood, the Jaguar F-Type Project 7 Speedster utilises the same 5.0-liter supercharged V8 as the standard Jaguar F-Type V8 S. However, Jaguar engineers managed to increase horsepower by 54 ponies and 41lb-ft of torque bringing the total figure up to 542hp and 501lb-ft of torque. Consequently, the Project 7 can hit 60mph in just 4.1 seconds and a top speed of 186mph.