The innovator and star of the infamous global phenomenon that was Gangnam Style, Psy, has had a photoshoot with the superb McLaren 12C Spider. The star was shooting the video to help promote rap star Ludacris's SOUL Headphones. The shoot took place in Hong Kong and featured the 12C along with a group of very attractive models and dancers that used the car as a prop to pose in!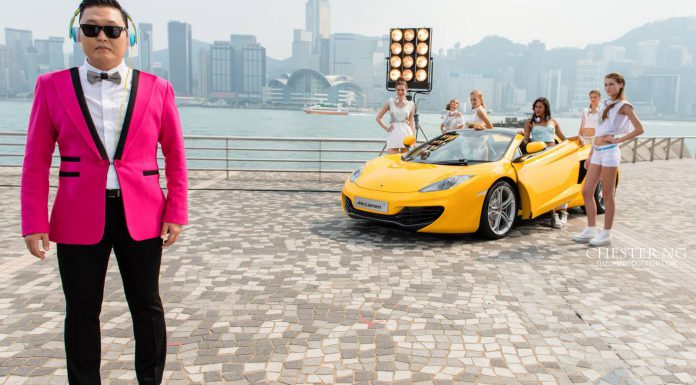 GTspirit recently drove the 12C Spider and loved it's all round capability that meant the car was just as good at tearing round the track and pumping adrenalin through your veins as it was prancing around town in very composed and surprising comfortable manner. The 3.8 liter twin-turbocharged V8 engine gets the 12C's 2013 updates meaning that it now pumps our 625hp and 600Nm of torque which makes for an impressive zero to 100km/h time of just 3.1 seconds, exactly the same as the coupe. To 200km/h it takes nine seconds, which is 0.2 seconds slower than the coupe. Top speed is 3km/h short to the fixed roof 12C at 329km/h. This is a small price to pay to experience the 12C's V8 rumble with the roof down!
Expect to see Psy, the very bright 12C and the ensemble of models in an advertisement for the headphones in the near future!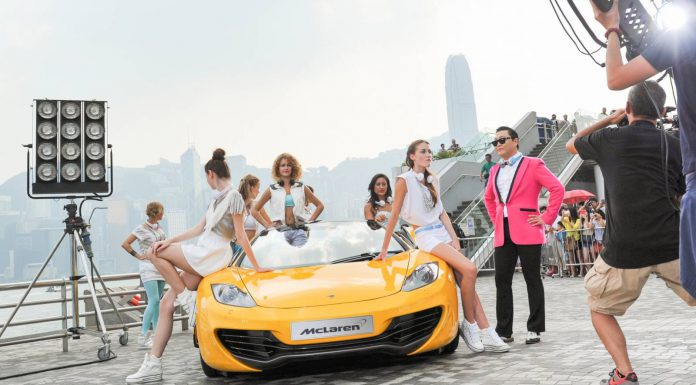 Photographer: Chester NG