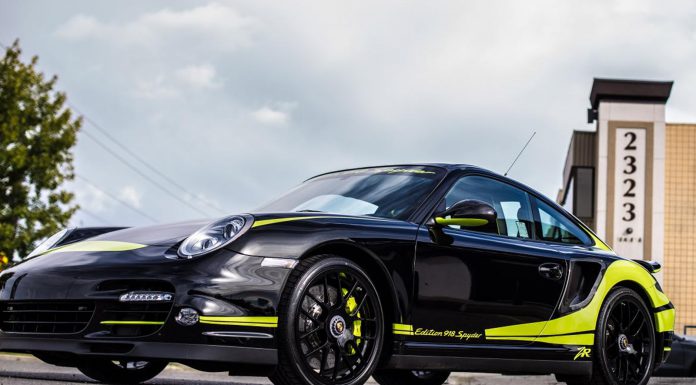 For those who simply could not wait until the release of the much-anticipated Porsche 918 Spyder, Porsche decided to release a special edition 911 (997.2) to hold those eager 918 Spyder owners over for a little bit. The Porsche 911 Turbo S Edition 918 Spyder was only offered to those with a 918 Spyder on order.
Besides the allure of exclusivity, this special edition Porsche isn't much different than the 530hp 911 Turbo S. The special-edition Porsche has carbon-fiber trim inside and out, plus upgraded leather, badging and the exterior colors of the 918, including the acid green brake calipers, illuminated sill plates, interior stitching and instrument cluster needles.
But for those who want to stand out, who not get your Porsche 911 Turbo S Edition 918 Spyder wrapped black and green with Edition 918 Spyder logos all around? That's exactly what ZR Auto did with their client's car. Master ZR Auto wrappers spearheaded the project, giving it some special touches to make sure that everyone knew that the Porsche owner has a 918 Spyder is on the way.
ZR Auto is notorious for wrapping some of the world's fastest cars in some pretty crazy designs that are sure to turn heads. This one is no different! For ZR Auto, that's the point. If you own a supercar, you're going to get noticed as it is. So why not build upon that and be different?
The guys at ZR Auto have gotten pretty creative with some of their wraps in the past. It makes us wonder what they're going to wrap next!