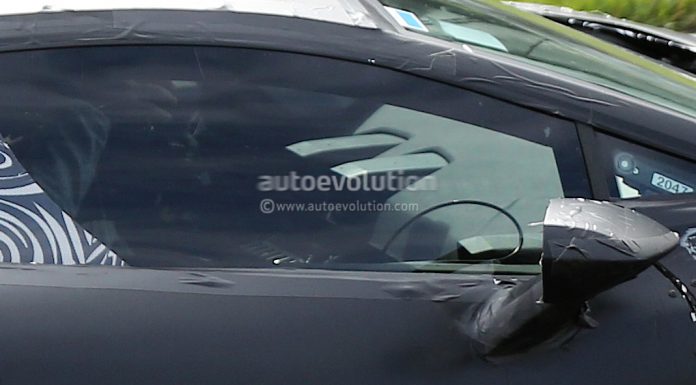 Following this recent spyshot of the upcoming 2015 Lamborghini Cabrera showcasing the LCD gauge cluster of the new car, inspired by the Aventador, another shot has been released showcasing the car's dashboard.
The most obvious design change of the Cabrera's dash is that it features two prominent air outlets feeding the interior with cold and hot air. Underneath, we can see a dark empty space where the multimedia system will inevitably be held. Below that are what appear to be chrome switches.
In terms of technical specifications, the 2015 Lamborghini Cabrera promises to be a great leap forward compared to the outgoing Gallardo.
Under the hood, the Lamborghini Cabrera will feature a similar 5.2-liter V10 engine as the outgoing Gallardo. However, power is expected to be lifted towards the 600hp mark.
Arguably most significantly however, the 2015 Lamborghini Cabrera is expected to feature an all-new seven-speed dual-clutch transmission indicating that Lamborghini has finally succumbed to the pressure and won't release the Cabrera with a similar ISR transmission to the range-topping Lamborghini Aventador.
It's most likely that the 2015 Lamborghini Cabrera will make its world debut at the Geneva Motor Show 2014 in early March next year. Also as expected, the 2015 Lamborghini Cabrera will likely share many technical features with the upcoming second generation Audi R8 which will hit the market after the Cabrera.
[Via AutoEvolution]