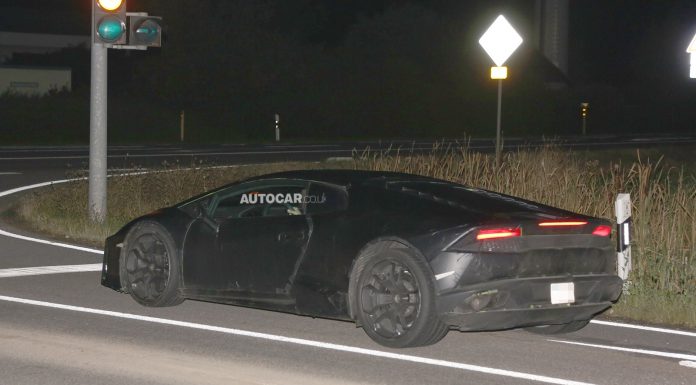 The Lamborghini Gallardo's successor, currently known as the 2015 Lamborghini Cabrera has been spied testing for just the third time ahead of its launch early next year. This is the first time the car has been spied testing at night thus giving us our first glimpse at the new taillights.
What's immediately apparent from the rear is that the 2014 Lamborghini Cabrera appears to have much narrower lights than the Gallardo and Aventador and the trademark horizontal 'Y' shape cannot be seen. However, this could simply be due to the photo itself.
Additionally, this image confirms our previous suspicions that the Cabrera will feature a dramatically redesigned engine bay cover. In the outgoing Lamborghini Gallardo, there is a small vertical rear window leading to a flat engine bay where the clear engine cover can be seen. However, this prototype features a single panel stretching from the roof to the rear-end just like the Aventador.
Additionally, some exposed bodywork can be seen suggesting this prototype is painted in Verde Ithaca. Also, if you look closely, an all-new gauge cluster can be seen which appears to feature an LCD screen with a prominent rev-counter just like the Aventador.
It's most likely that the 2015 Lamborghini Cabrera will make its world debut at the Geneva Motor Show 2014 in early March next year. Also as expected, the 2015 Lamborghini Cabrera will likely share many technical features with the upcoming second generation Audi R8 which will hit the market after the Cabrera.
Arguably most significantly however, the 2015 Lamborghini Cabrera is expected to feature an all-new seven-speed dual-clutch transmission indicating that Lamborghini has finally succumbed to the pressure and won't release the Cabrera with a similar ISR transmission to the range-topping Lamborghini Aventador.
[Via Autocar]