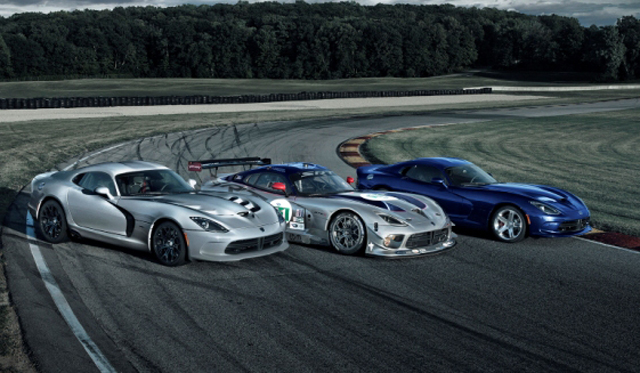 As far as supercar updates go, the following one is very minor yet sure to please future 2014 SRT Viper owners. It's just been announced that the SRT Viper is now available in three additional paint options.
The first new paint scheme is Billet Silver which has been inspired by the paintjob of the SRT Viper GTS-R racer. The next new paint option is dubbed GTS-R blue and is the same color used on the roof of the Viper GTS-R. Finishing off the new paint options is a shade of matte black dubbed Anodized Carbon Special Edition.
Arguably even more important than the new paint options is a new feature for the traction control system. The new feature allows driver's to put the SRT Viper into a new Rain Mode which helps keep the American supercar undercheck in wet and slippery conditions. This is just another example of how much more driver friendly the SRT Viper is over the previous generation Dodge Viper.
2013 SRT Viper

As a reminder, the SRT Viper, first offered as a 2013-model, has been completely re-imagined over the old Dodge Viper and consequently features all new bodywork as well as a new engine. That new engine comes in the form of an 8.4-liter V10 delivering a potent 640hp and 600lb-ft of torque.