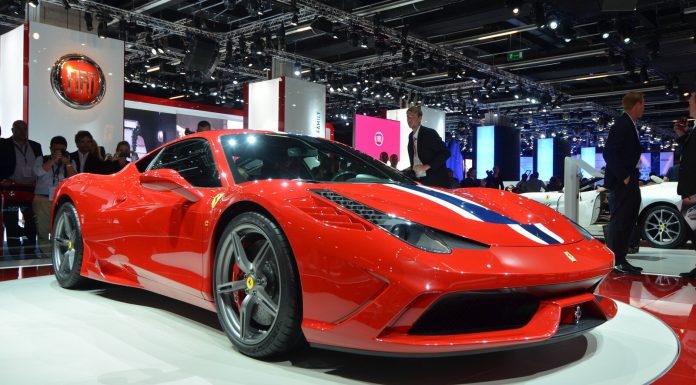 The Ferrari stand is attracting quite a bit of attention from the crowds at the IAA Frankfurt Motor Show 2013. The Ferrari 458 Speciale makes its official debut. While the naming wasn't quite the surprise we got at the Geneva Motor Show earlier this year, it is going to take a little getting used to. The
The Ferrari 458 Speciale gets a modified variant of 458's 4.5-liter V8 engine. In the Speciale it delivers a total of 597hp and 398lb-ft of torque making it the most powerful naturally aspirated V8 engine ever produced by Ferrari. Weight reduction is a big part of the philosophy, the Speciale loses 195 kg over the standard 458 Italia at 1,290 kg. This is 40 kg heavier than the 430 Scuderia, yet the extra power makes up for it. Ferrari claims a sprint time to 100km/h of just 3 seconds, the Speciale can then hit 200km/h in just 9.1 seconds.
From a styling and aerodynamic perspective, the design of the Ferrari 458 Speciale was largely dictated by aerodynamics but Pininfarina was involved in creating the Italian supercar's completed look. That 'look' consists of new front and rear bumpers, new side sills, new rear diffuser and redesigned rear grille as well as dual exhaust pipes rather than the three of the regular Ferrari 458 Italia. The Ferrari 458 Speciale then features a dramatic blue and white stripe stretching down the middle.
For full details on the Ferrari 458 Speciale, take a look at our earlier post.