The second round of the Lamborghini Blancpain Super Trofeo Series in North America took place at the Kansas Speedway this weekend. With two races, one taking place on Friday night and the other on Saturday, different winners emerged.
During the 40 minute qualifications session for Friday's night race, it was Lawson Aschenbach who mastered the track well, and secured the pole position. During the night race, Aschenbach led almost the entire race with Kevin Conway closing in on him. The game changed when 5th placed Robin Miller hit the barriers in the #99 car and the safety car was launched with Conway finding a small opening and snatching the lead.
The second race on Saturday was the most exhilarating as it had more action, more overtaking and similar events as those from Friday night. The positions changed, Al Carter who had finished second on Friday night was the man to beat after an advantageous finish gave him a lead over Conway. For Conway, electrical problems were a setback earlier on in the race but he overcame them all to finish second.
Perhaps the most exciting finish was that of Aschenbach who he once again became the victim of circumstance after the appearance of the safety car set him back to eighth. On lap 26, he broke into the 1 minute 14s, the only driver to achieve this during the race.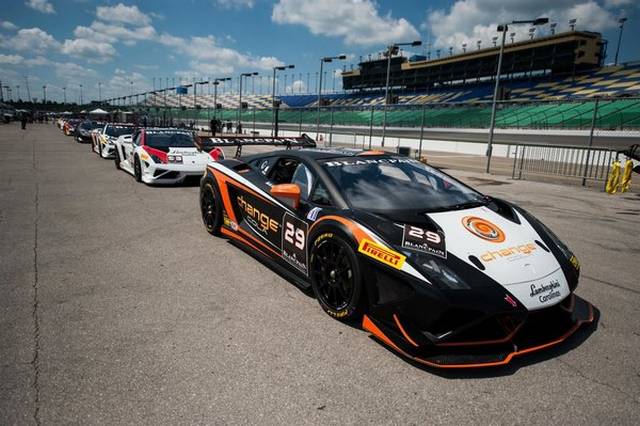 Drivers Quotes:
P1 Kevin Conway #29, Change Racing Carolinas
We're ecstatic to claim the win here as it felt as if we had a victory taken away from us at Lime Rock. I hoped that coming into this race at Kansas that I had a little bit of a homefield advantage with my oval background, but we had to work hard and plan carefully to win. Our strategy worked well as we were able to pit under the caution and that really worked to our advantage. I want to thank the team and Lamborghini Carolinas for the great opportunity.
P1 Al Carter #80, Lamborghini Palm Beach Mitchum Motorsports
It's my first win with me behind the wheel, so it's a pretty big deal. I'm a little worn out, but very happy! I tell you what, these Lamborghinis hustle round the track, these cars and that track are a fun deal. Lots happened in the race, but my main focus was on Kevin who ran me hard, but we got there in the end. Thanks to Chris Mitchum for getting me in the car, thanks to Lamborghini Palm Beach, to Pirelli and everyone at Kansas.