This is the new look of the 2016 Lamborghini Blancpain Super Trofeo safety car, bestowed upon by MR Group. The new look will be used across all Super Trofeo races that currently take place in Europe, Asia and USA..
The 2016 Lamborghini Super Trofeo series kicked off at Monza two weeks ago before heading over to Laguna Seca last week for the series premiere in North America. MR Group, the current technical partner to the championship designed a look that features both MR Collection models and Looksmart models on the safety car.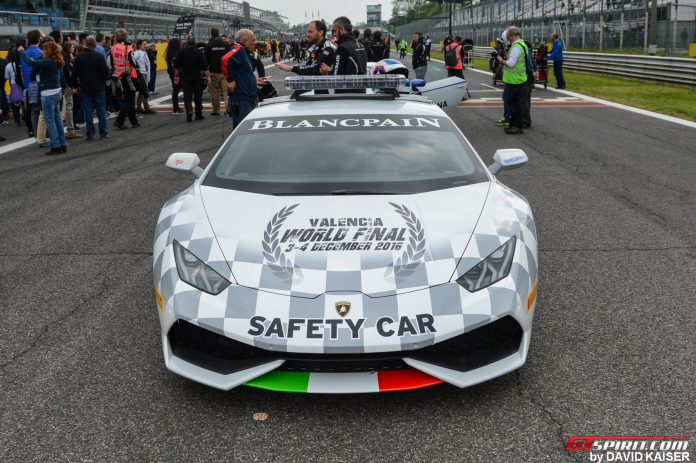 Since its inception in 2009, the Lamborghini Super Trofeo has expanded to three continents with 2016 witnessing the largest grid. Additionally, there is a World Final race that brings together drivers from all three series at the end of the year. For 2016, the World Final race will take place at the Valencia Circuit on December 2nd.
Lamborghini Super Trofeo Safety car
As a reminder, the 2016 Lamborghini Huracan is powered by a 5.2 liter V10 engine lifted from its predecessor, the Gallardo albeit with more power at 610hp. So far Lamborghini has introduced five more iterations of the Huracan namely the Huracan Spyder, Huracan LP580-2, Huracan Avio, Huracan Super Trofeo and the Huracan GT3.