The second round of the Lamborghini Blancpain Super Trofeo Europe concluded today at the Silverstone circuit in the UK. Race 1 went down yesterday and it was Dennis Lind from Raton Racing who stole the show by crossing the finish line first after starting from pole. Race 2 victory went to Imperiale Racing Team driver Vito Postiglione who marked his first ever Super Trofeo win in this round.
Lind had the upper hand in race 1 having qualified fastest to claim pole for Saturday's race, but he had to struggle in the early minutes of the race given that Silverstone is a hard track to overtake. Soon as he got his groove on, the Dane managed to build a gap gradually over his rivals before taking the chequered flag first. Behind him was race 2 winner Vito Postiglione who now leads the PRO standings. 18-year old Martin Kodric from Bonaldi Motorsport rounded the top three podium finishes.
Petri Corse driver Nicola Larini who impressed in Monza still managed to stun today after starting from eleventh place to finish fourth. The first PRO-Am car was the Bonaldi Motorsport duo of Patrick Kujala and Adrian Amstutz who finished fifth overall ahead of Loris Spinelli and Enrico Fulgenzi – they ran in P2 for most part of the race before acquiring a penalty for unsafe start.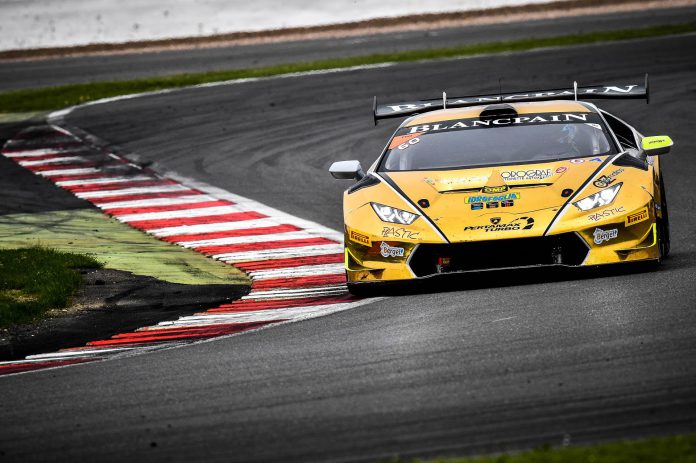 The AM class saw a repeat of Monza with 17-year-old Rik Breukers from GDL Racing taking the win while Tim Richards from Toro Loco won the Lamborghini Cup.
Lamborghini Super Trofeo Silverstone Round 2016
Race 2 had its fair share of drama, Postiglione excluded himself maintaining a safe gap all the way to the finish line. The same could not be said for race 1 winner Lind who started the race from pole but made contact with a lapped driver costing him the lead, he finished in P8. Harald Schlegelmilch from Artline Team Georgia started from the front row too but suffered a similar fate to Lind before finishing in 14th place.
Second place overall went to Loris Spinelli and Enrico Fulgenzi from Antonelli Motorsport while Bonaldi impressed again with a third place finish from Martin Kodric. Patrick Kujala who turned 20 today secured the PRO-Am class win again, effectively taking over the standings in this category. Rik Breukers repeated his stint from race 1 by winning the second race on Sunday.
The Lamborghini Cup class was won by Franck Metzger from France and Portuguese Carlos Sarria from Driving-Evolution by Auto Vitesse team.
The next round in the European leg will head over to Paul Ricard on June 24th.