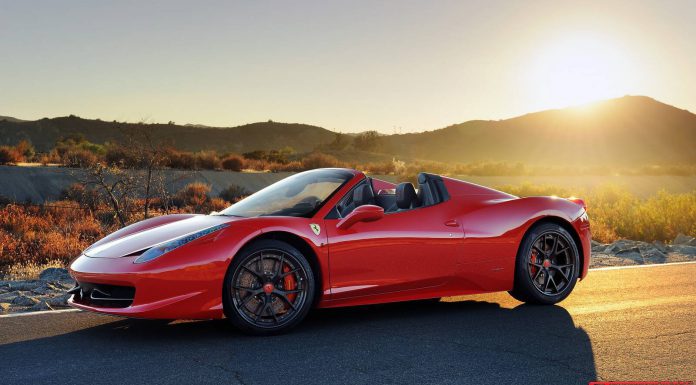 Here it is, the first Ferrari to come from US tuning legends Hennessey Performance! Details and photos of the Ferrari 458 Spider HPE700 Twin Turbo have officially been unveiled and we have to say, we really like it! For those that don't know Hennessey Performance, the Texas-based company gave us some of the fastest Dodge Viper's on the planet, so the 458 Spider is definitely in good hands.
For the Italian supercar, Hennessey Performance went down the tried and tested twin turbocharger route. The upgrades release enough power to boost the mid-mounted 4.5 litre V8 engine up to 738 hp at 8,400 rpm and 532 lb-ft of torque at 5,600 rpm. The extra 170 crankshaft horsepower pushes performance to a whole new level. 60 mph pops up at 2.8 seconds with a quarter-mile time of 10.5 seconds at 137 mph.
The list of upgrades is extensive. Hennessey fits the 458 Spider with low-inertia ball-bearing turbochargers together with mandrel-bent T304 stainless tubing, twin wastegates and blow-off valves and an especially trick aluminum plenum that contains the air-to-water charge-cooler element. To complete the cooling package a rear-mounted heat exchanger is fitted, paired with dual electric fans. An engine-control unit reflash optimises the direct injection, fuel feed and spark plugs to create an efficient setup.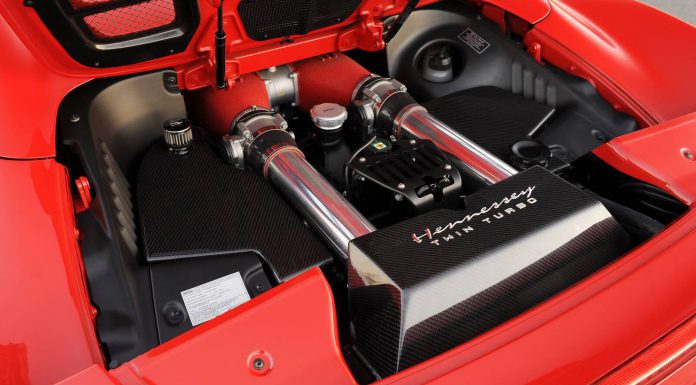 Hennessey Performance haven't fitted any visual upgrades to the show car aside from the badging. A carbon fibre front splitter and rear lip spoiler are in the works. A set of Hennessey 20 inch monoblock forged wheels are available and fitted to the show car with a set of standard Ferrari centre caps. If you weren't able to see the engine compartment, you could quite easily mistake the HPE700 package for a stock Ferrari 458 Spider!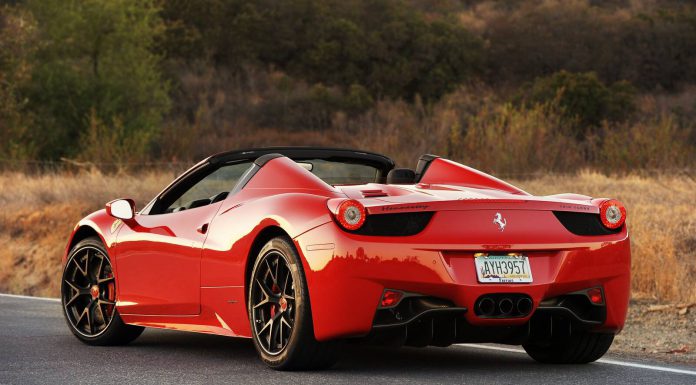 A KW suspension system is available as are interior enhancements. The Ferrari 458 HPE700 Twin Turbo upgrade is on offer for $59,995 installed. Perhaps the best part is the fact that it includes a 1-year/12,000-mile limited warranty alongside full dyno tuning and road testing.
Needless to say, the package is available for Coupe and Spider owners. Those that want to take a closer look at the car will be able to check it out on Friday this week at the at Concorso Italiano.