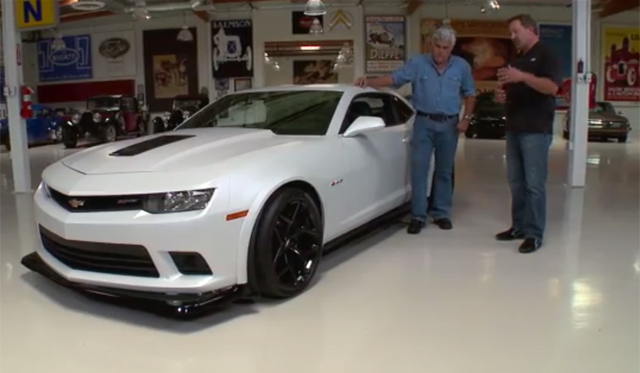 Unlike the Shelby Mustang GT500 which is largely all about horsepower, Chevrolet decided to pay extra attention to the handling dynamics when creating the 2014 Chevrolet Camaro Z/28. Jay Leno recently had the chance to drive the new Z/28, thus making him the very first person to drive it outside General Motors!
The most notable changes featured on the 2014 Chevrolet Camaro Z/28 when compared to the base model is its aggressive aerodynamic package which incorporates a new front splitter, larger flared wheel arches and larger rocker panels. These changes are then topped off with a small rear lip spoiler and rear diffuser.
In order to reduce weight on the car further, Chevrolet went about thinning the rear window to only 3.2mm from 3.5mm, and removed the HID headlights and fog lights. As a result of these changes, the 2014 Chevrolet Corvette Z/28 weighs a substantial 300 pounds less than the ZL1 and an impressive 100 pounds less than the performance-oriented Camaro SS variant.
Under the hood, the 2014 Chevrolet Camaro Z/28 features a similar 7.0-liter LS7 V8 engine as present in the previous-generation Chevrolet Corvette Z06 with it delivering 500hp and 470lb-ft of torque. Consequently, the car is three seconds faster around GM's test track than the Camaro ZL1.