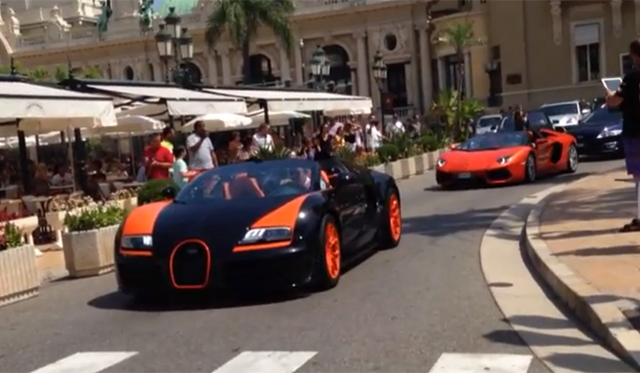 Just after Jeremy Clarkson was recently spotted testing the insane Mercedes-Benz SLS AMG Black Series on the road and on the track, the Top Gear front man was spotted in Monaco driving the Bugatti Veyron Grand Sport Vitesse WRC. Clarkson was joined by fellow Top Gear host, Richard Hammond, behind the wheel of a Lamborghini Aventador Roadster.
It's not yet known exactly why filming is occurring after Top Gear Season 20 just finished, but it's possible that the Top Gear crew has already commenced filming for Top Gear Season 21. It's either that, or an upcoming scene for Jeremy Clarkson's latest annual supercar DVD with Hammond featuring as a special guest. We favour the latter.
Whatever it is, we're extremely excited to see the result!
Just as a recap, the Bugatti Veyron Grand Sport Vitesse is based on the Bugatti Veyron Grand Sport and uses an 8-liter W16 engine, which delivers 1,200hp and 1,500Nm of torque at 3,000 to 5,000 rpm. The increased power of the new roadster's 16-cylinder engine is made possible by the four enlarged turbochargers and intercoolers. The chassis of the Bugatti Veyron Grand Sport Vitesse has also been modified to support the power increase.
Earlier this year, the Bugatti Veyron Grand Sport Vitesse World Record Edition set a new world record top speed for a convertible production car at 408.84km/h.