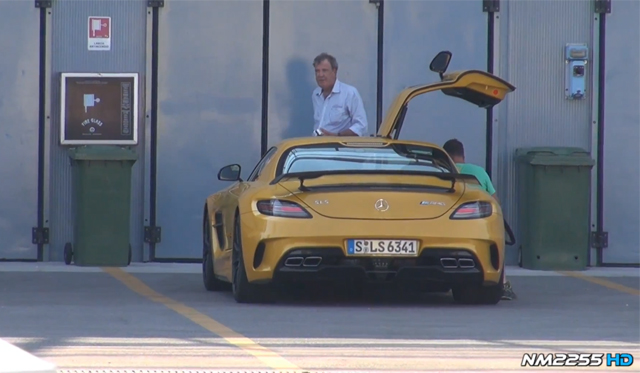 Top Gear host Jeremy Clarkson was recently spotted alongside a Pagani Huayra and driving a gold Mercedes-Benz SLS AMG Black Series in what's believed to be preparation for his latest supercar DVD. In the following video, Clarkson can be seen driving the stripped down variant of the standard Mercedes-Benz SLS AMG GT on the track as well as on the road!
The technical improvements found in the Mercedes-Benz SLS AMG Black Series include custom-built camshafts, new air intakes, and improved oil and water cooling. Consequently, the 6.2 liter V8 engine offers a potent 635hp and 635Nm of torque. Additionally, its redline has been raised all the way from 7,200rpm to 8,000rpm!
Thanks to that extra performance and faster gear shift times, the Mercedes-Benz SLS AMG Black Series goes from 0-100km/h in just 3.6 seconds, which is two tenths faster than its 571hp-strong brother. In terms of top speed, the SLS AMG BS reaches 315km/h, instead of 317km/h for the SLS AMG GT. This is mainly due to the newly fitted rear wing and changed aero package.
The Mercedes-Benz SLS AMG Black Series also weighs 70kg less than the standard car due to the extensive use of carbon fiber. The total dry weight is 1,550kg. The splitter, side skirts and diffuser are made of carbon fiber, and the exhaust system is titanium. With a weight of 17kg, this saves a substantial 13 kilos over the stock system on the SLS AMG GT.