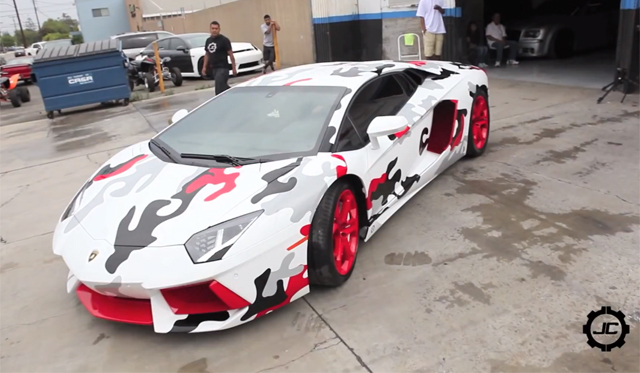 We've all seen the pictures of Chris Brown's brand new, camouflaged Lamborghini Aventador and now a video chronically the creation of this unique Lamborghini Aventador has been released. To our surprise, the car was not created by the team at West Coast Customs and instead painted by the JC's Custom Paint shop.
The following video showcases how the team removed the vast majority of the car's body panels before heading into the paint booth and turning Brown's Lamborghini Aventador into arguably the only Aventador which could out-shine Nasser Al Thani's 'Tron' inspired Lamborghini Aventador!
http://www.youtube.com/watch?v=5fHoJDA0YPI#at=254
This certainly isn't the first time that Chris Brown has put a crazy but unique twist on one of his cars. In the past, the entertainer has turned his Lamborghini Gallardo into a P-51 fighter jet, and even more recently, a life-sized Hot Wheels color disaster.
As a successor to his Gallardo, Brown decided to give his Aventador an intimidating military look. Produced by JC's Custom Paint in Bellflower, California, the new look to this Lamborghini was meant to stand out from all of the rest and it's pretty safe to say that they have successfully reached their goal.
Before the new scheme was added, this particular Aventador was a very simple grey with black wheels. Apparently, the dark grey color on his Lamborghini did not draw enough attention to meet his needs.
What could possibly be next? Could it be his Mercedes-Benz SLR Stirling Moss gifted to him by Rihanna?