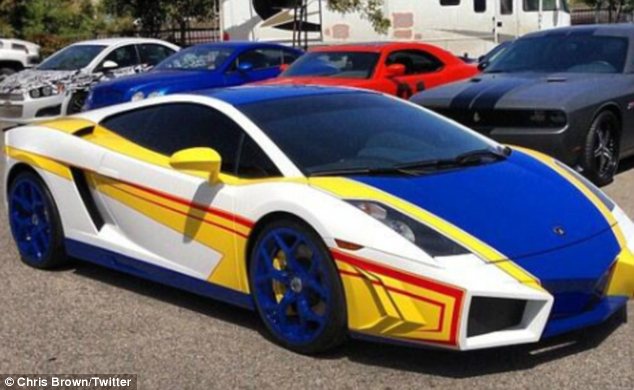 RnB singer Chris Brown has decided to go all rainbows on his Lamborghini Gallardo thanks to Ryan of West Coast Customs. No, it's not a Hot Wheels car project as many of you may have thought, this is a West Coast Custom production, sounds better when put that way right? Well, these are the photos we came across when reading the Daily Mail.
For celebrities, we are used to this kind of wild colors, Paris Hilton has showed us enough of colors on exotic cars in this case referring to her Pink Bentley, as for Chris Brown, the choice of colors is also wild but we should also get used it. The car was originally in Black but now covered in as many colors as your pack of crayon pencils.
The photos as we learnt were taken at different locations including one of Ryan the stylist of the car soon as he finished on the project, some in the Superclub located in Hollwood where he took it for a spin and others with his friends the likes of Tyga, Ne-Yo and Wiz Khalifa. For your opinions and thoughts, the chat box below could never get enough of it.