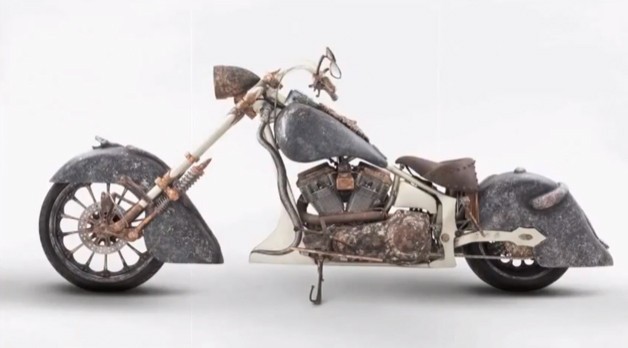 Expensive motorcycles are nothing new, especially considering the rise of the Italian superbikes, which cost more than some small cars.
This motorcycle, however, is not a showroom-spec Ducati or some rare model MV Agusta — no — this motorcycle was custom made by a wealthy Turkish millionaire and is worth millions. Why? He crafted the entire frame out of pure gold. And if it weren't for the video above, very few would even give the MadMax looking motorcycle a second glance. The man behind the motorcycle, Tarhan Telli, says the bike is powered 1801cc V-Twin motor with approximately 125 horsepower, a 6-speed transmission. The entire packages weighs about 700 pounds.
When commissioning the bike, Telli didn't want the gold frame to overpower the bike so the steampunk-esque is as practical as it is stylish. According to Motorcyle.com, who spoke with Telli, he has approached the Guiness Book of World Records in an attempt to gain the record for the world's most expensive motorcycle. While only a handful of historical bikes have sold for over a million dollars at auction, we have no doubt that Telli's motorcycle cost him well above the $1 million mark.
Check out the video above for a more intricate look at what could possibly be the world's most expensive motorcycle.