Porsche has broken the record of the world's greatest supercar parade by assembling more than 1,200 Porsche 911s at the Silverstone circuit during this weekends Silverstone Classics. The parade was part of the ongoing celebrations for the Porsche 911's 50th anniversary. Porsche announced earlier already that the event had been oversubscribed, originally aiming for 911 Porsche 911's, a total of 1,208 Porsche 911s joined the parade.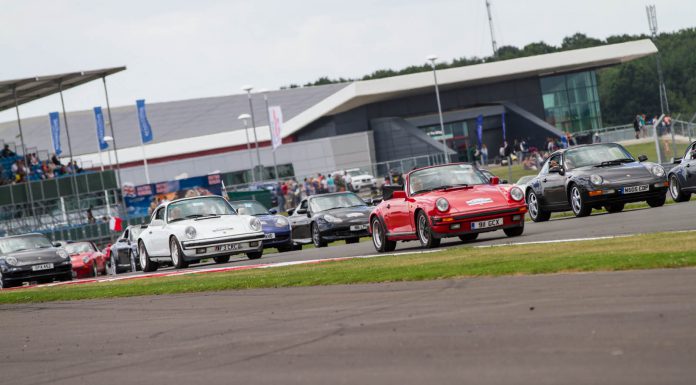 Ferrari previously held the record for the largest parade of supercars at the Silverstone circuit. They set this record back in 2012 with 964 Ferraris, beating the Japanese record of a 490 Ferrari parade at the Fuji Speedway circuit. Porsche has managed to beat the 964 number with a flawless margin, the 911 included variants such as the Carrera, RS, RSR, GT, Speedster, Targa and Turbo.
Over 820,000 Porsche 911s have been built, making it the most successful sports car in the world. The 911 is the central point of reference for all other Porsche series. From the Cayenne to the Panamera, every Porsche is the most sporting automobile in its category, and each one carries a piece of the 911 philosophy. It has also excelled in racing with two thirds of Porsche's 30,000 race victories to date notched up by the 911.
Mark Porsche, son of 911 designer Ferdinand 'Butzi' Porsche and great-grandson of the marque's original founder, Ferdinand Porsche said;
Of course the 911 means a great deal to me as it's my father's big design and it will always have a special place in my heart. It's a family member over all the generations of the 911 series and I'm very proud to be here today to represent the Porsche family at this great event. I think that to have these 1200 cars on track is the attention that the 911 deserves for its 50th birthday. I can't thank the Porsche Club GB enough for making this event possible.