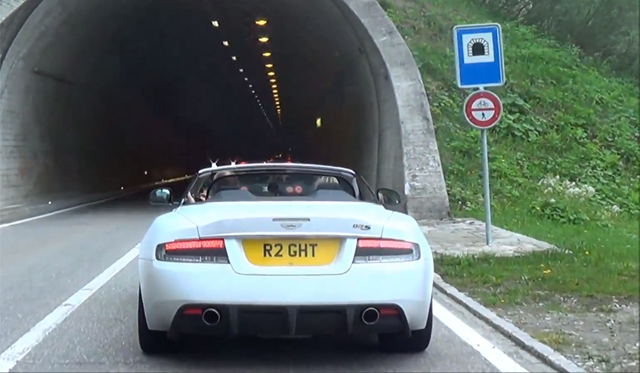 Ever wondered what a Bugatti Veyron Super Sport World Record Edition sounds like blasting through a tunnel? Well, as the following video from the Supercar Driver on YouTube shows, it's not loud enough to be heard over a decatted Aston Martin DBS Volante that's for sure!
Despite the Bugatti Veyron and its subsequent Super Sport and Vitesse variants being the world's fastest production cars in their respective classes, the quad-turbo, 8.0-liter W16 engine of the Veyron has always suffered from a severe lack of noise. Nevertheless, the Aston Martin DBS Volante in the following clip more than makes up for the disappointing exhaust note of the Bugatti Veyron Super Sport WRC!
For those that missed out on the official debut of the Bugatti Veyron Super Sport a couple years ago, here's a short run-down of the French hypercar. Limited to only 40 pieces, the latest edition of the hypercar boosts 1200hp, a top speed of 434km/h (269.8mph) and a sprint time from 0 to 100km/h (62mph) of just 2.5 seconds while 300km/h (186mph) is reached in 15 seconds.
The manufacturer sent test driver Pierre Henri Raphanel out onto Volkswagen's Ehra-Lessian high-speed oval with the first Super Sport. Representatives of the Guinness book of records and German Technical Inspection Agency (TÜV) saw Raphanel achieve the unthinkable and set a new world record which still stands three years later.