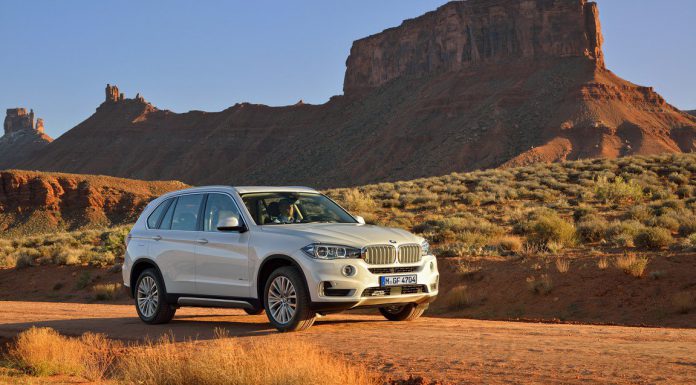 The 2014 BMW X5 US prices have been revealed as the German automaker prepares to launch its third generation of the X5. The sports activity vehicle was revealed last year and carries on the legacy of its two previous predecessors, the first being introduced in 1999.
The prices are as follows; top of the range 2014 BMW X5 xDrive50i will start at $69,125. This comes with the 4.4-liter TwinPower Turbo V8 that develops 330 kW/450 hp. Then there is the 2014 BMW X5 xDrive35d which is priced at $57,525, it comes with a new 3.0-liter TwinPower Turbo inline six-cylinder diesel engine. The petrol version- 2014 BMW X5 xDrive35i is priced at $56,025. BMW also introduced, and for the first time a rear wheel drive option for the X5 in the 2014 X5 sDrive35i which is priced at $53,725.
Note that $925 destination charges will apply on top of the named prices.
For those eyeing on the newly introduced TwinPower Turbo inline six X5 sDrive35i, its counterpart the X5 xDrive35i and the TwinPower Turbo V8 X5 xDrive50i, they are expected in US showrooms in the fourth quarter of this year. However, the X5 xDrive35d will come later, early 2014.
The top of the range BMW X5 xDrive50i with 450hp and 650 Nm of torque at 2,000 – 4,500 rpm will do 0-100km/h in 5 seconds. Its top speed is 250km/h. It will come with BMW TwinPower Turbo technology-two turbochargers, direct injection and Valvetronic. The BMW X5 xDrive30d will do 0-100km/h in 6.9 seconds and a top speed of 230km/h. It will feature a turbocharger with variable inlet geometry and common rail direct injection.
The interesting one comes from the BMW X5 M50d M Performance Automobile. It will do 0-100km/h in 5.3 seconds and a top speed of 250km/h. It features three turbochargers, high-pressure with variable turbine geometry, common rail direct injection with piezo injectors and maximum injection pressure 2,200 bar.
Read on the full detailed report of the 2014 BMW X5 and all its variants here!