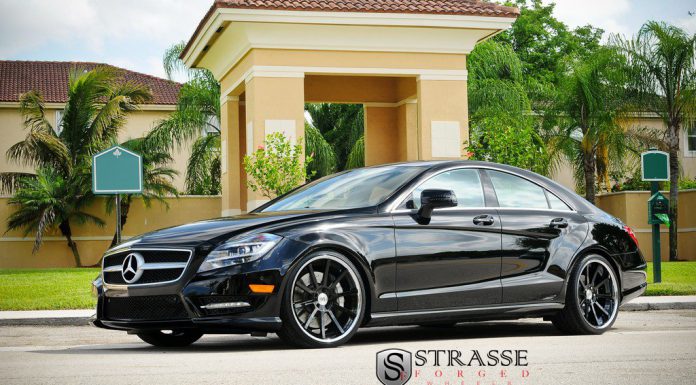 Wheels manufacturer Strasse Forged Wheels seems to be doing quite well with their customers considering the vast number of projects they have recently showed us. Starting with the recent and unique 2013 Frozen Silver Edition BMW M3 to the likes of the Camo wrapped NIssan GT-R. Their latest project goes to the Germans, its based on the 2012 Mercedes-Benz CLS550.
This one is in black, meaning the wheels combination was not a hard one to choose especially considering there is a wide list to choose from. It was fitted with their S10 wheels in standard concave nature but with deep lips. The front axle was mounted with 20 x 9 inches of these wheels while the rear axle was mounted with 20 x 11 inches of the same wheels.
Other details in the wheels include the color matched centers and chrome lips to give it an extra stance over the stock luxurious look. The 2012 Mercedes-Benz CLS550 came equipped with a hefty 4.6 liter V8 engine fed by Honeywell GT2260 turbochargers that altogether give rise to 402 hp. More powerful than the previous 5.5 liter naturally aspirated, also more room for improvement! We have seen the likes of Brabus play with this engine making it give up to 800 hp!