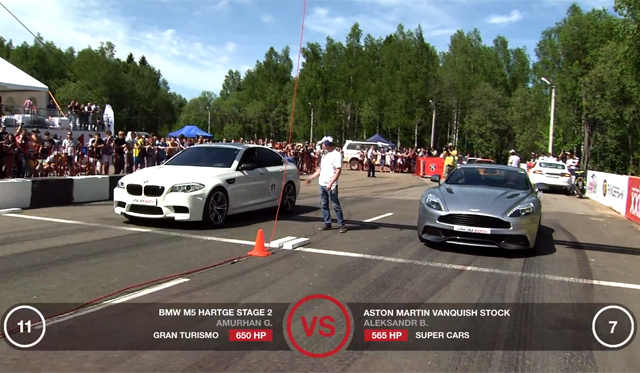 Drag Times on YouTube recently tested out the acceleration capabilities of the 2013 Aston Martin Vanquish by pitting it against a 650hp BMW M5 Hartage Stage 2 and a 700hp Nissan GT-R MK.3 Ecutek Stage 2.
The 2013 Aston Martin Vanquish features a 6.0-liter V12 engine producing 565hp at 6,750rpm. Torque output peaks at 457lb-ft of torque at 5,500rpm and all this power is then sent to the rear wheels via a Touchtronic 2 six-speed automatic transmission. Consequently, the car can sprint to 62mph in just 4.1 seconds and onto a top speed of 183mph.
While pitting the Aston against the aforementioned tuned BMW and tuned Nissan may not seem fair, it certainly makes for some entertaining viewing!