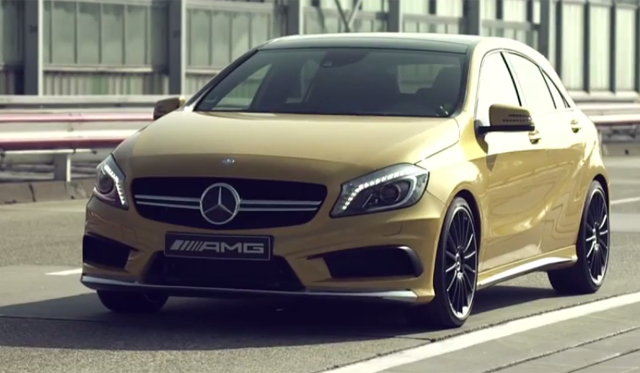 American singing sensation Usher recently signed on as an ambassador for Mercedes-Benz, even being given the opportunity to help build the engine which will be fitted to his unique Mercedes-Benz SLS AMG. Mercedes-Benz have now released the following video of Usher driving the Mercedes-Benz A45 AMG and the star seems thoroughly impressed with Mercedes-Benz's latest pocket rocket.
The Mercedes-Benz A 45 AMG is representative of the "AMG Performance 50″ strategy for the future set to run up to the 50th birthday of Mercedes-AMG GmbH in 2017. It houses the most powerful series production four-cylinder engine in the world with a maximum output of 360hp and up to 450 Newton meters of torque.
The Mercedes-Benz A 45 AMG therfore accelerates from zero to 62 mph in 4.6 seconds, while its top speed stands at 155 mph which is electronically limited. It features the AMG Speedshift DCT seven-speed dual clutch transmission and a rear differential.
The twin-scroll technology provides for a more spontaneous build-up of charge pressure, making effective use of exhaust gas back pressure, exhaust gas temperature and exhaust gas impulse. That is then made effective by the AMG sports exhaust system that features large pipe cross-sections and an automatically controlled exhaust flap familiar to the one found on the SLK 55 AMG.