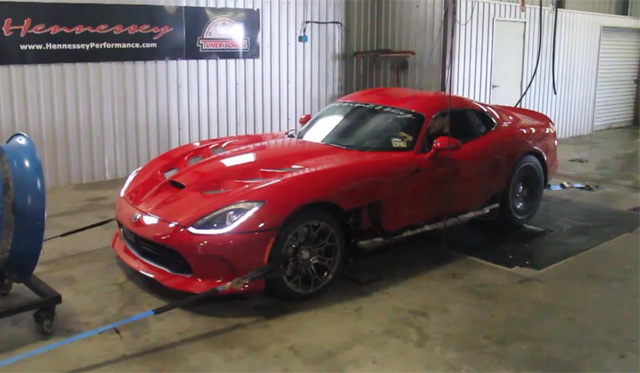 Renowned American tuner Hennessey Performance, best known as the company behind the Hennessey Venom GT, have released the following video of a 2013 SRT Viper by Hennessey on a dyno for the very first time.
This particular 2013 SRT Viper features long-tube headers and a 3 inch exhaust upgrade as well as a K&N air filter and high-flow cylinder heads and consequently produces an insane 725hp and 695lb-ft of torque. That's significantly more than the 640hp produced by the standard 2013 SRT Viper which of course features a large 8.4-liter V10 engine.
Hennessey Performance is currently planning to create a 1,000hp variant of the 2013 SRT Viper, but for the moment, this 700hp is the most potent variant it currently produces. As a result of the aforementioned power produced by the 2013 Hennessey Venom 700R, the car can hit 60mph in just 3.1 seconds, complete the quarter mile in 10.7 seconds at 134mph and should reach a top speed of 216mph!
However, that will be nothing compared to the 2013 Hennessey Venom 1000 which will feature twin-turbochargers and is predicted to pump out 1,120hp at 1,092lb-ft of torque at 4,200rpm. As a result, it should hit 60mph in 2.7 seconds and the quarter mile in just 9.7 seconds at 152mph.