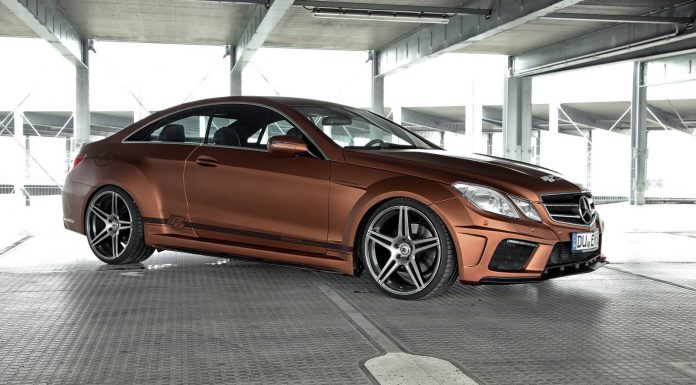 The Mercedes-Benz E-Class Coupe has largely been left untouched by the tuning community. Except for an extreme Brabus special edition, Prior Design are the only company to have taken on the looks before. Today they released a new tuning kit called the Prior Design E-Class Coupe PD850 Black Edition. It takes the Mercedes-Benz E-Class Coupe and adds some C-Class Coupe looks to the mix.
As with all Prior Design parts, the car is fitted with Dura-Flex FRP (Fiber Reinforced Plastic) body panels. The PD850 Black Edition features a new front bumper, rear bumper with diffusor, side skirts, front fenders, wider rear fenders, a rear trunk spoiler, a front bonnet add-on and everything required to mount the parts.
The show car gets a matte gold finish along with optional exhaust tips and a complete sports exhaust systems. At the front, you'll notice the new daylight-running LED lights.