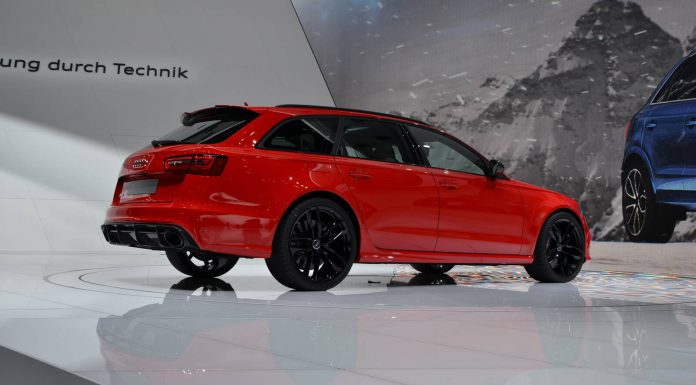 The Audi RS6 Avant receives its European premier at the Geneva Motor Show 2013. First released back in December 2012, the Audi RS6 Avant hasn't yet been displayed at a public motor show. We sent our photographers for a closer look.
The Audi RS6 Avant features a 4.0 TFSI V8 engine with a twin-turbo setup and a peak output of 560hp between 5,700 and 6,700rpm. Torque stands at an impressive 700Nm available between 1,750 and 5,500rpm. Switchable flaps in the exhaust system create an awesome soundtrack to match the performance. Audi also offers an optional sports exhaust system.
Top speed is electronically limited to 250km/h. This is increased to 280km/h with the optional Dynamic package. With the Dynamic plus package, Audi reigns in the engine only upon reaching 305km/h. The zero to 100km/h sprint is 3.9 seconds.
Audi retains its green credentials by fitting the cylinder on demand (COD) system, also found in the S6 and S7. At low to intermediate loads and engine speeds, it shuts down the intake and exhaust valves of cylinders 2, 3, 5 and 8. The 4.0 TFSI then runs as a four-cylinder engine until the driver accelerates more strongly again.

The cockpit of the Audi RS6 Avant has dial instruments with black faces, white dials and red needles. RS sport seats with pronounced side bolsters, integrated head restraints and RS 6 logos are standard. Standard equipment includes xenon plus headlights, LED rear lights, a tire-pressure control system, illuminated entry sills and the custom driver-information system.
For more information on the Audi RS6 Avant, click through the embedded link.