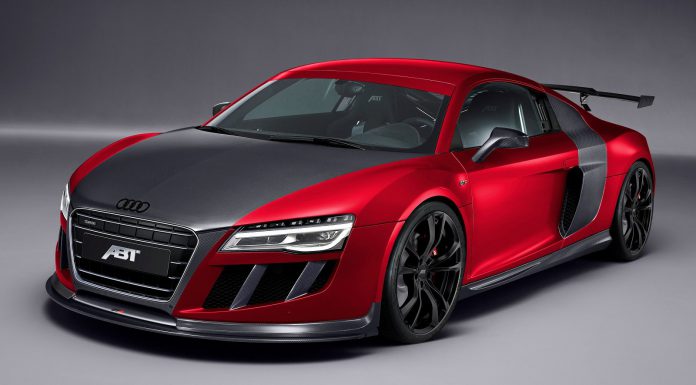 ABT Sportsline send GTspirit excluisve information on their upcoming releases for the Geneva Motor Show 2013 today! Highlight will be the new 2013 ABT R8 GTR based on the facelift Audi R8 that will celebrate its official premiere in Geneva in about ten days.
The new ABT R8 GTR is set out to be a roadworthy dream car based upon the company's motorsport experience as ABT calls it. And the ABT powered super sports car's V10 engine's performance data are indeed impressive: 620 hp, up from 525 hp delivered by Audi R8's serial version. The top speed of the ABT R8 GTR is 325 km/h. The 2013 ABT R8 GTR reaches 100 km/h in 3.2 seconds, 200 km/h in 9.9 seconds, a speed range for champions.
In conjunction with the developers in the ABT racing department, that you might know from their frequent DTM appearance and victories, the engineers have focussed on weight reduction and its ideal distribution. The body parts do not only contribute to the design of the R8 GTR, the ABT Sportsline version also weighs 100 kg less. This can be put down to all its components being made of high-quality, durable and extremely light carbon fiber. Be it the front or rear spoiler, rear wing, hatch door or bonnet, it's all made of carbon fiber. Even the exterior mirrors, door panels and rear tearoff edge are made of carbon fiber. Its not all optics, the front splitter is adjustable, for use of the ABT R8 GTR on the race track, a Nordschleife or Hockenheimring per example.
"This car combines all our experiences gained in all the decades we have been involved in premium motorsports", says Hans-Jürgen Abt, CEO of ABT Sportsline. From the ceramic braking system, the height-adjustible sport-type suspension with its adjustable shock absorbers to the wheels – it all bears the Kempten signature. For the ABT R8 GTR the ER-F forged wheel has been chosen. Weight reduction played a huge role in selecting the wheels as in motorsports, it's decisive that the unsprung masses are as small as possible, and that's where the ER-F is very convincing.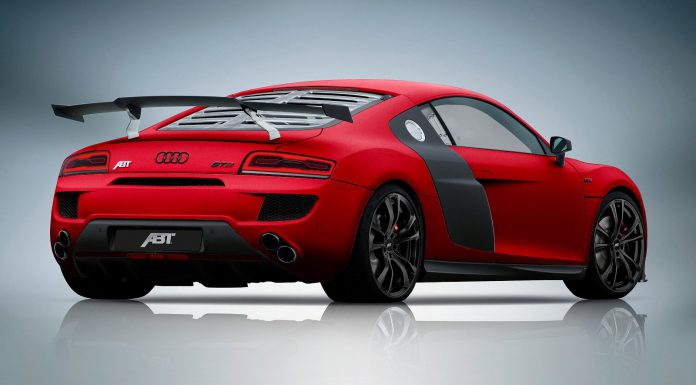 The interior of the ABT R8 GTR is covered in black-red Alcantara with racing stripes adorn the sport bucket seats. Race features include a rollover cage, 4-point safety belts and a sport steering wheel made of Alcantara and carbon that features LED-shift indicator lights. ABT promises the ABT R8 GTR to be a car suitable for both extremely fast lap times on the track as ultimate performance on the streets.