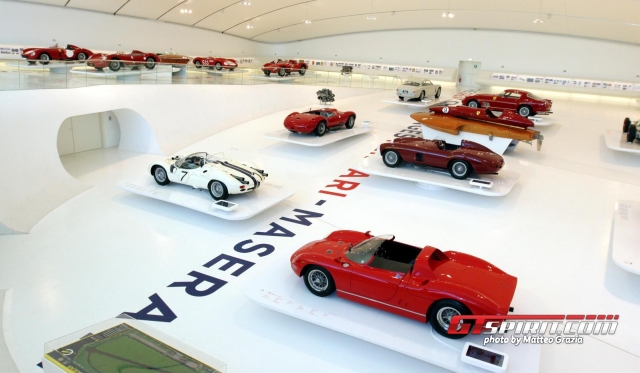 The Museo Casa Enzo Ferrari is arguably one of the most prestigious automotive museums in the world. Located at the birthplace and childhood home of Ferrari's founder, Enzo Ferrari, in the Italian village of Modena, it is a stones throw away from Ferrari's headquarters in Maranello.
Matteo of ItalianSupercar.net takes us inside this breathtaking museum that hosts Ferrari's inducted to the Hall of Fame. The event underway is an exhibition entitled "The Great Challenges: Ferrari Maserati". It consists of 19 selected models to highlight the all-Italian battle of these two major manufacturers, such as the 1954 Maserati 250 F defined by Manuel Fangio and Stirling Moss.
The cars include the Ferrari 340 MM that won the 1000 Miglia in 1953 and one of six specimens of the Maserati Tipo 63 Birdcage composed of a tubular frame weighing just 25kg powered by a powerful V12 with 350hp. Also present is the Ferrari 330 P and the legendary Ferrari 250 GT TDF (1956). The exhibition is now open and closes its doors on 20th March.
The prestigious museum was designed by Czech-born architect Jan Kaplický, who unfortunately died before the project was started but his protégé, Andrea Morgante, took over and created it. From the sky, one can see the aluminum roof structure in Fly Yellow paint perforated by two rows of skylights. All elements combine to imitate a car's hood with air vents.