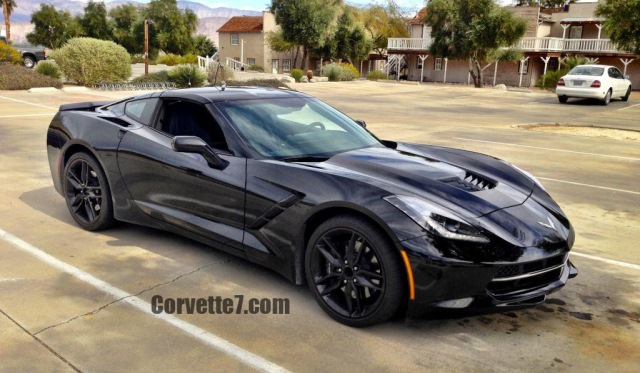 Two members from Camaro5, Schmidty and ChargedCamaro were out for a normal cruise with their Camaros when they stumbled upon this black on black Chevrolet Corvette Stingray. They had gone to Borrego Springs to enjoy their cars in the awesome Californian weather, upon spotting the black C7 Corvette.
The duo asked the engineers for permission to take a few photos and hence this photoset which was posted on their sister site Corvette7. The Corvettes were undergoing testing and it's believed that this Black C7 is the Sports prototype. The Chevrolet Corvette Stingray debuted at this's years Detroit Motor Show and a convertible version is expected to debut at the Geneva Motor Show 2013.
The C7 Chevrolet Corvette Stingray has 450hp from its new generation LT1 GM V8 engine. As a result, the new car surpasses the previous generation base C6 substantially in every performance aspect and is able to launch to 100km/h in under four seconds, but does this incident raise curiosity of its safety or is it one of those driver mistakes? Well, we only have to wait for more information to emerge.