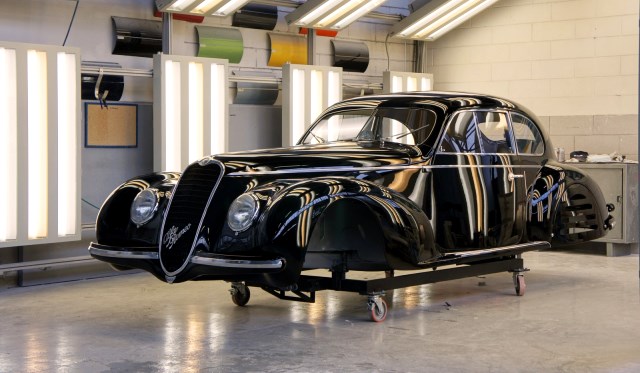 The 2013 edition of the Salon Retromobile started on February 6th and carries on until the weekend with a showpiece auction set to take place on February 8th. It's a classic car event that takes place in France with exhibitors showcasing their various classic cars and restorations linking the past to the future.
Coachbuilder Touring Superleggera are showing two rare projects from its restoration department namely the Alfa Romeo 6C 2500 and Lamborghini Flying Star II, both featuring Touring bodyworks. Touring Superleggera is recognised worldwide as one pre-eminent names in Italian car design and coachbuilding having been founded by Felice Bianchi Anderloni and Gaetano Ponzoni in 1926.
This particular Alfa Romeo 6C 2500 was the very first 6C 2500 Touring Berlinetta built in cooperation with Alfa Romeo between 1938 and 1939. It features power from an SS engine fitted with 3 Weber carburettors. Touring constructed the bodywork from aluminium using the Superleggera technique.
The car is undergoing restoration at Touring Restoration Department's workshop in Milano. The built-in roll cage, floor pans, chassis and body will all receive much needed attention. Turing will also fit new interior upholstery including original an fabric headlining, in solid black with direct-lacquering technique, a rebuilt rear wheel holder with original Touring patented docking system.
Touring have even dry-ice blasted the bodywork in order to protect the original, thin aluminum panels.