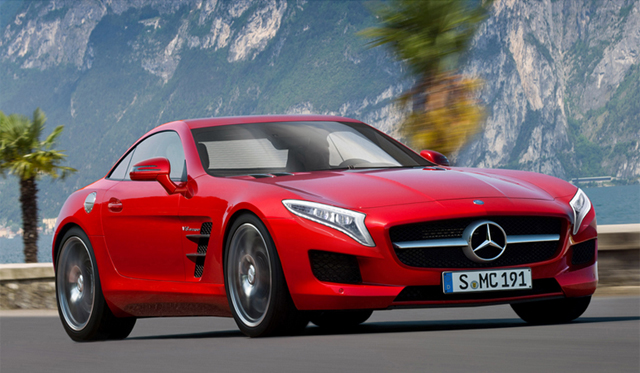 We last brought you news about the possibility of a baby Mercedes-Benz SLS AMG being introduced last year after hearing word that the SLC project has been shelved. Fast forward to February 2013 however, and new information has leaked out on the website of Car Magazine suggesting that development of the car has in fact continued with the yet unnamed supercar pinned to go on sale in 2015.
Currently codenamed the C190, the baby-SLS or SLC as it colloquially known as, is set to specially target the dominant Porsche 911. Underpinning the new entry-level supercar will be an updated version of the aluminium spaceframe fitted to the standard SLS while it will also ditch the gullwing doors of its big-brother.
Just like the SLS, the car will feature a front mounted V8 engine resulting in a long nose and short tail. While discussing engines, insiders currently predict that two V8 models will be produced with the base model set to cost 80,000 pounds and pinned to feature a 4.0-liter V8 engine delivering 485hp and 500lb-ft of torque. This power will help to offset the heavier curb weight of the SLC compared to the Porsche 911.
For owners wanting to spend an extra 35K, the SLC S, fitted with a Performance Pack, can be ordered which lifts power to 585hp and 553lb-ft. As a result, this model would actually be more powerful than the standard SLS and would easily compete with the Porsche 911 Turbo S.
A Black Series SLC could then be released in 2017 or 2018.