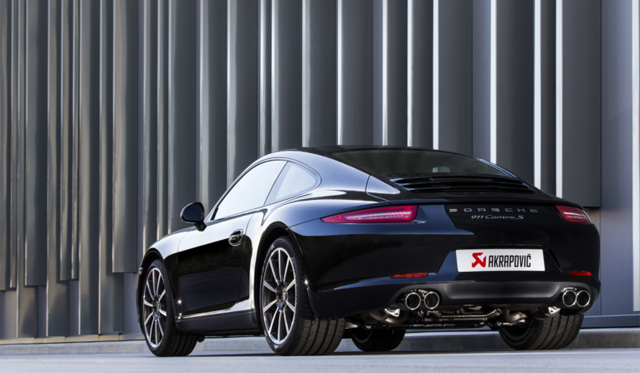 A new slip-on titanium exhaust system has recently been made available by leader aftermarket exhaust manufacturer, Akrapovic. The new kit is specifically designed for the 2012-13 Porsche 911 Carrera/S/4/4S.
The systemd tips the scales at just 19.8kg, making it 8.8kg lighter than stock, therefore improving the car's overall power-to-weight ratio. Completing the exhaust upgrade is Akrapovic's slip-on line muffler which increases power from the car's naturally aspirated, six-cylinder engine.
The entire system is constructed from lightweight titanium alloys, and helps to retain the OEM catalyser and comes fitted with noise-control valves similar to those which appear in the stock Porsche muffler. What this means is that at low-rpm's, the exhaust creates a pleasing and soothing exhaust note, while at higher-rpm's, the valves fully open to produce Akrapovic's typical, extraverted exhaust note.
The system can them be optioned with the Akrapovic wireless kit, which enables the driver to open and close the exhaust valves remotely.