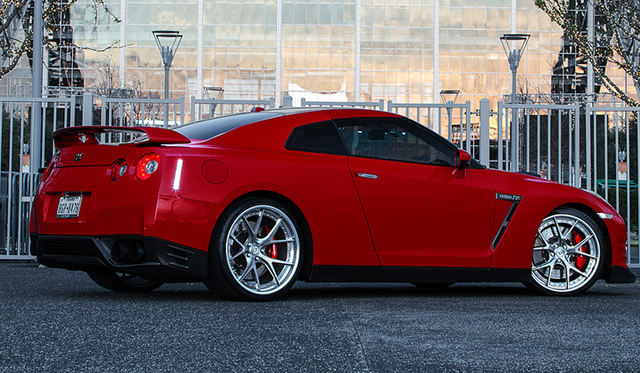 HRE Wheels recently teamed up with famous Nissan GT-R tuner, Jotech Motorsports to create a stunning set of HRE S101 three piece wheels for Dallas Cowboys safety Gerald Sensabaugh. The wheel set was then fitted to Sensabaugh's red GT-R pictured below.
Jotech Motorsports didn't just fit a new set of wheels to this Nissan GT-R, they also installed their Stage 3 tuning kit which significantly increases horsepower of the Japanese supercar from its stock output of around 525hp.
The kit includes a HKS GT800 twin turbo, a GReddy titanium exhaust, a GReddy titanium midipipe, stainless steel downpipes, 3 inch air intakes, ID 1,000CC injectors, HKS twin fuel pumps, HKS iridium spark plugs, Cobb access port, Custom Jotech Dyno/Street Tune by Kenny Tran and custom Jotech LED headlights.
Power is now rated at 698hp to all four wheels.