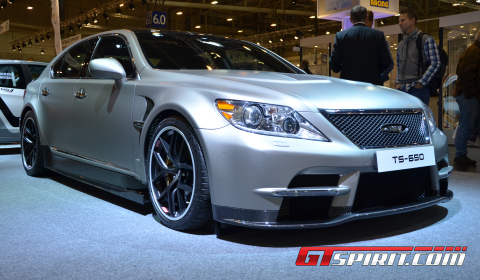 Toyota Motorsport GmbH (TMG) has pulled the wraps off their first road car, the TMG Sports 650 Concept, a TMG-developed 650hp, bi-turbo super sports car based on the Lexus LS 460. We had a closer look at the new concept here at the 2012 Essen Motor Show.
The heavily-modified road car is intended to challenge BMW's M Power, Mercedes-Benz AMG and the RS line of Audi. The concept features a 5.0 liter 650hp-strong V8 engine, intended to achieve a top speed of 320km/h via an eight-speed high-torque-capacity transmission. The maximum performance is achieved at 6,500rpm with a maximum torque of 765Nm at 5,460rpm. Naught to 100km/h is done 3.9 seconds.
The TMG Sports 650 is a limousine-sized car weighing a total of 2,050kg. The suspension consists of a multi-link with coil springs and Sachs dampers. Braking is achieved using a Brembo carbon ceramic kit. The powerfull sedan rolls on 10Jx20 wheels at the front and 12Jx20 at the rear. The rims are shod in wheels sizing 275/35R20 at the front and 345/30R20 at the rear. Front wheels sizing 295/35R20 are available as a track option.