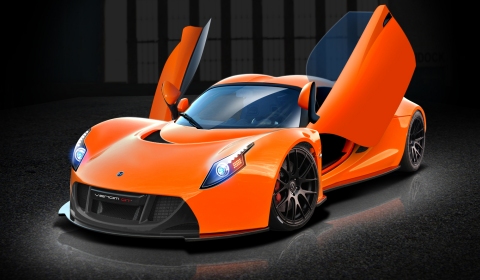 John Hennessey has released to us exclusive information on his upgraded 2013 model of the Hennessey Venom GT supercar, called the 2013 Hennessey Performance Venom GT2. CEO and owner of Hennessey Performance said that "the Venom GT will continue to offer the best power to weight ratio in the hypercar market". He also revealed they are currently building their tenth Venom GT!
The 2012 model is powered by a twin turbocharged Chevrolet LS-series aluminum V8 producing 1,200hp and 1,135lb-ft torque mated to a six-speed Ricardo manual transaxle. The Venom is capable of hitting 100km/h in about 2.2 seconds. Top speed will be 262mph. Stopping the sports car? 15 inch, six-piston front, four-piston rear, Brembo carbon ceramic brakes are available at your command.
The list of 2013 upgrades includes a new door design with dihedral hinges and an increased headroom with double bubble roof. The engine is upgraded to a 7.0 liter twin turbo V8 producing over 1,500hp on E85 pump fuel. The power source is linked to a new seven-speed paddle shift transmission or the six-speed Ricardo manual transaxle. The power to weight ratio is higher than one bhp per kilogram of curb weight. Improved performance figures have not been released.
The carbon fiber body, which is windtunnel tested, will have some aerodynamic improvements like new side mirrors and roof and front airdams. The body still includes an active rear wing to ensure enough down force on the rear wheel drive.
The first Venom GT2 will debut in late 2013. The production will be limited to seven vehicles. The new supercar will cost $1.25 Million US Dollars.