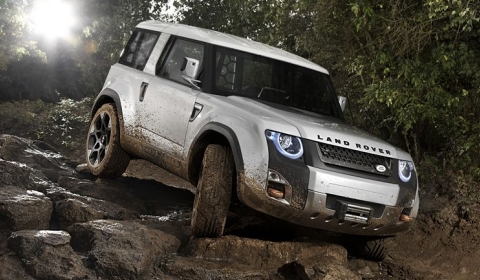 Rumours are circulating via British motoring magazine, Autocar that suggest Land Rover is embarking on a massive lineup expansion. Land Rover hope to double annual sales by 2020 to reach a total figure of 600,000 vehicles annually. Autocar reports that predictions suggest Land Rover will hit 22 million vehicles by 2020.
The plans supposedly focus on the entire range. It is thought that additional models will be added to the Range Rover line-up, a new Defender will be released at some point and a radical expansion of the Freelander range will take place. This later range see four new 'leisure' SUVs added during the next seven years.
The Range Rover line-up will be expanded to incorporate six models, including an 'Evoque XL' to fill the gap between the current Evoque and the new Range Rover Sport, and a convertible Evoque.
The new Freelander will be a radically different car, offering five-seat and seven-seat variants. As far as useable off-roading goes, a production version of the DC100 Concept is expected. Built on the Evoque platform, this would slot in below the Defender. The Defender itself would get five-seat and seven-seat variants with a crew-cab pick up also available.The new Discovery might also get an aluminium platform, allowing it to compete effectively with cars such as the BMW X5. The Defender remains popular with those that want a more rugged Land Rover and we understand that company bosses want to retain its place in the future lineup.
These plans will be underpinned by Jaguar Land Rover boss Ralf Speth's announcement of £2bn a year package for the period up until 2020. The money will allow Land Rover to develop at least one new platform and to increase production. It is expected that the investment will also help Land Rover's push to break into emerging markets such as China too.
Land Rover's 96 outlets managed 47,975 sales in China for the first eight months of the year, a figure that is 85 percent up on the same period of last year. 47 showrooms are due to be built soon and the market is now Land Rover's second biggest, slightly behind the UK home market.