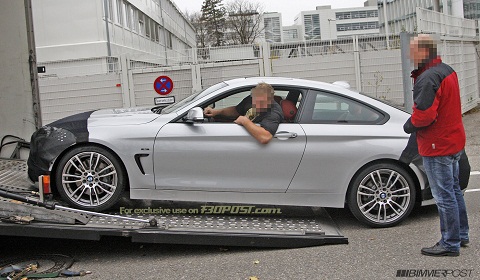 F30Post scooped the best photos yet of what many expect to be the new BMW 4-Series. At first glace, this production ready vehicle could be mistaken for the M-powered variant, however, we can assure you that it isn't. It is in fact the 435i or 440i wearing a minimal amount of camoflage to cover the front and rear.
The new coupe takes its styling cues from the BMW 6-Series. It is the sleek sports coupe version of the F30 sedan, which means that it should get the same underpinings. The rear quarter windows are a larger size, the styling line down the side is also more pronounced than the outgoing E92 model. The most obvious distinguishing feature is the front quarter panel vent.
The new 4-Series will share the F32's kidney grilles and headlights. This particular car is wearing 19 inch M Sport Wheels and BimmerPost tells us that the brakes match that of the F30 335i. The engine is expected to be a new-generation twin turbo inline-six engine coupled with xDrive and a choice of either a manual transmission or eight-speed automatic.
This will be one of 2013's most anticipated cars. It completely replaces the 3-Series Coupe which we are told won't be on offer anymore. Sadly, this might mean that we don't get to see an M3 Coupe in the future. Check out the complete gallery here.