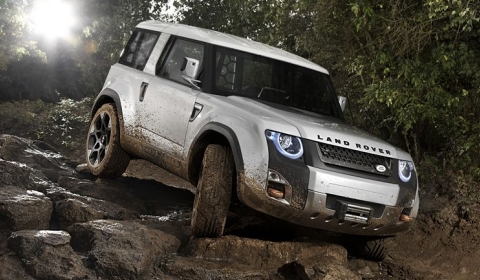 The Land Rover DC100 is a modern interpretation of the iconic Land Rover Defender. It's been announced that Land Rover will present the DC100 concept at the 2011 Frankfurt Motor Show. This follows confirmation that production of a new Defender is intended for 2015.
With this concept, Land Rover is hoping to gauge opinions on what a new Land Rover Defender should look like. The original, iconic design has gone unchanged since 1983, despite the 28 year-old design; many enthusiasts still purchase the vehicle which makes it an important decision for Land Rover to make.
Commenting on the Land Rover DC100 concept car, Gerry McGovern, Director of Design, Land Rover said:
"Replacing the iconic Defender is one of the biggest challenges in the automotive design world; it is a car that inspires people worldwide. This isn't a production-ready concept but the beginning of a four-year journey to design a relevant Defender for the 21st century."
John Edwards, Global Brand Director, Land Rover added:
"Loved the world over for its simple, honest and distinctive design, we are determined that the new Defender will be true to its heritage, while meeting the requirements of a changing global market.

We plan to engage with existing and potential customers to help us finalise the details of the new vehicle. One thing's for sure, it's going to be an exciting journey, and we can't wait to get going."
The press conference has been booked for 09:15 hrs (CET) on September 13, 2011 at the Frankfurt Motor Show. We'll bring you more detailed info when it becomes available on that date; however, Land Rover will also be made available via live web stream on www.landrover.com.