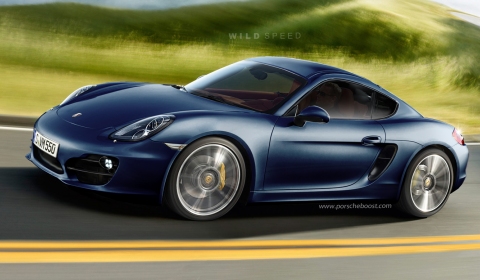 German car maker Porsche has confirmed the release of the 2013 Cayman S at the 2012 Los Angeles Motor Show. The Germans send out a press release informing the media about their world premieres at the west coast car show.
The world premiere of a compact sports car at the LA Auto Show will give added dy-namic impetus to this trend. Porsche is presenting the new vehicle to the international media for the first time at a press conference at 12:05 pm on November 28 at the Porsche show booth in the Petree Hall.
We reported before on the release of the new Cayman S at the LA Motor Show. So the quote copied from the press release confirms our findings and the release of the coupe sports car following the official release of the Boxster S convertible.
The Cayman series will use the same engines, transmissions and suspension setup as its open-top family members, the 2013 Boxster and Boxster S. The Cayman will be powered by a 2.7 liter flat six producing around 265 horsepower, and the Cayman S will be powered by 325hp 3.2 liter flat six. Reportedly the flat-six engine will be replaced by a new twin-turbo 2.5 liter four-cylinder engine by 2015.
The release accompanied by the US debut of the Carrera 4 and Carrera 4 S, which made its official European debut at the Paris Motor Show in September.
Stay tuned for our official coverage of the Los Angeles Motor Show starting in three weeks time.