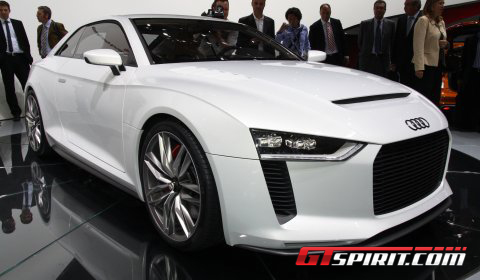 Rumours have been circulating recently that suggest Audi is working on reviving the Audi Sport Quattro. For those unaware of the Audi Sport Quattro provinence, it was a four-wheel drive, two-door coupe originally released at the 1980 Geneva Motor Show. It dominated the World Rally Championships between 1982 and 1985 with 23 victories. The road car was based on the rally racer, however, very few were built.
The Audi Sport Quattro could potentially be released as a 35th anniversary edition in 2015. According to AutoBild, the car is known internally as Q35 and is said to feature a 2.5 liter five-cylinder engine. Presumaby, this is the same engine currently used by the Audi TT RS, except for the Audi Sport Quattro, it will produce 380hp with an Audi S-tronic DSG gearbox and permanent four-wheel drive.
Speculation suggests that the special edition would slot into the Audi range between the TT RS and the Audi R8, possibly right into Audi RS5 territory. Audi did present an Audi Quattro Concept at the Paris Motor Show back in 2010. That car was based on the Audi A5 with the same 2.5 liter engine tuned to 408hp and a set of weight saving measures. We'd love to see that car in the showrooms!