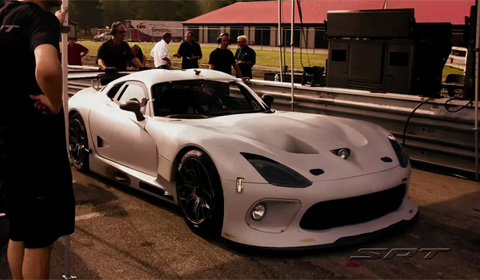 Following an extensive period of testing, the 2013 SRT Viper GTS-R is about to make its racing debut during the Mid-Ohio Sports Car Challenge, a three-hour American Le Mans Series (ALMS) endurance race.
Driven by Dominik Farnbacher, Marc Goossens, Ryan Hunter-Reay and Kuno Wittmer, the two Vipers will make their first on-track race appearance August 4 in the production-based GT class. Both cars will be competing against the Aston Martin Vantage, BMW M3GT, Corvette C6.R, Ferrari F458 Italia, Lotus Evora and Porsche 911 GT3 RSR.
The 2013 SRT Viper GTS-R is based on the new production Viper, but features some changes. Whereas the road-going Viper is powered by an 8.4 liter V10 engine the GTS-R uses an engine with a displacement of 8.0 liter.
Because rules of the ALMS dictates a maximum engine size of 5.5 liters, SRT was forced to compensate for the size advantage by adding an intake restrictor. The car now produces between 450-500 horsepower with top speeds of up to 180mph.
The Mid-Ohio Sports Car Challenge will be broadcasted on ABC at 2:00pm EDT on Saturday, August 4. Those living outside the US can watch all ALMS races live on the ALMS website.