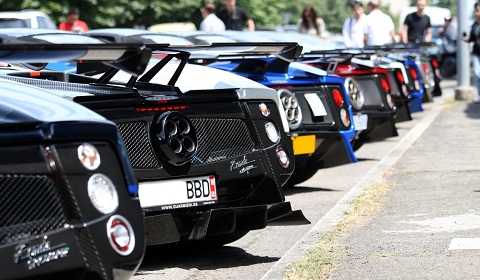 Time for pictures of the annual Pagani meeting! Thanks to our friends over at Italiansupercar.net we can show you photos and video from the annual Vanishing Point event. Eleven Pagani Zondas and three Pagani Huayra's turned up for the event creating what must be the most desirable event line up's in world. Of course, the starting point was the Pagani factory.
In the photos you'll see the almost every generation of Pagani Zonda ranging from Tricoloure to Cinque. Pagani bought out a Zonda R to display on the road outside the factory and it seems several other cars, a Wiesmann, a Ferrari, a Mercedes-Benz SLS AMG and a Lamborghini tagged along too. The gathering looks every bit as exciting as the Mclaren F1 Tour we reported on recently.
We're not sure on the route that the eighth Vanishing Point meeting took. According to the Pagani fanatics over at Pagani-Zonda.net, Zonda numbers 006, 018, 020, 048, 047, 052, 110, 002, 058, PT5 and the Cinque Roadster made for Spanish importer Guarnieri.
The Pagani Zonda debuted in 1999, and production is still ongoing with special editions available at customers request. It features a Mercedes-Benz 7.3 litre V12 engine with up to 760hp. The Pagani Huayra is its replacement, unveiled at the Geneva Auto Salon 2011. It features a 6.0-litre Mercedes-Benz V12 engine with 690hp.
Enjoy the photos and videos. If you want more, head over to Italiansupercar.net.