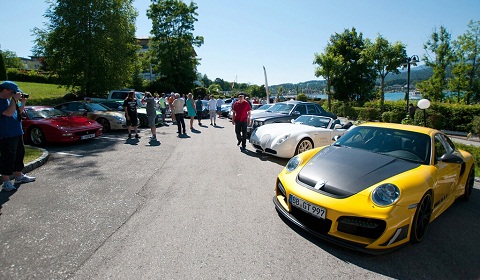 Last week saw the fourteenth annual Velden International Sports Car Festival held in the small Austrian town of Velden next to the alpine lake Wörthersee. It's part of the International Sport Car Week which is one of Europe's biggest sports car festival. Over 300 cars took part, the fourty-odd pictures you see below shows just part of the event!
In the pictures you'll see a Techart GT Street R, a couple of Weismann MF5's, a Lamborghini Murcielago, a Lamborghini Gallardo Superleggera, a McLaren MP4-12C, a Ferrari 458 Spider, a couple of Lamborghini Aventador's and a Porsche Carrera GT. There's also a Ferrari 430 Scuderia, a Ferrari 599 GTB and a Lamborghini Diablo. In fact, the only cars the event missed were hypercars!
If you want to see more, head over to Flickr. Enjoy the photos and videos!