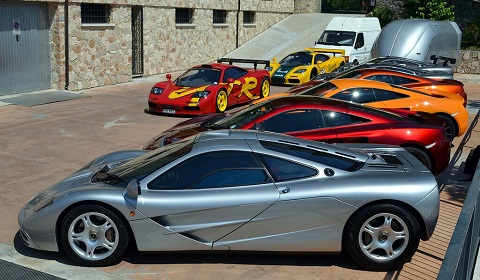 Anyone who follows either our frontpage or facebook page won't have failed to notice the McLaren F1 owners meeting that's happening in Italy at the moment. The event has been shrouded in a veil of secrecy since the start of the week. This veil has now been lifted, we can reveal details of the nineteen McLaren F1's that are taking part. The meeting is associated with the McLaren F1 Owner's Club, started recently by an F1 owner and supported by the factory.
The route, around Italy, takes in some of Europe's greatest roads including the Sella Runde in Italy, the Valpolicella wine region and the Italian lakes. The meeting commemorates the 20th Anniversary of the McLaren F1's unveiling at the Monaco Grand Prix in 1992. The cars are as follows. First, two prototypes head the list, XP3 and XP4, the first we are told is Gordon Murray's silver car, the second is a Californian registered blue car.
Next we have chassis number 001 from Illinois, USA, the third car built and finished in silver. 007 is jet black and registered to a Swiss owner, 009 another silver car registered in Australia and 018 which is a Dark Silver car, again, registered in Australia. Car number 024 is a Silver new York registered F1, number 038 is a Kandy Orange Connecticut registered F1 and 046 is a silver German car. Number 062 is another silver Californian car, 064 is the 50th road car registered in the UK and coloured silver, 067 is another silver car registered in Minnesota and 069 is black, registered in the UK. The final road car on the trip is number 072 finished in white with a Texan numberplate.
The final five cars are all GTR models converted to road use. The first is number 05R a 1995 Cesar art car that splits its time between the UK and Monaco. The second is 06R another 1995 car with Harrods livery and road registered in the UK. The third is 07R, another 1995 car finished in Papaya Orange and registered in the UK. The final two are 1996, chassis 10R was a test car now road registered in the UK with a bloody red with yellow GTR stripes. The second is number 12R, the 1996 Le Mans that placed 9th with Gulf Livery, this one is also registered in the UK.
We have to thank Automotiveforums.com for unearthing so many beautiful pictures and details of the event, especially Peloton25. We would also like to thank MCLF1 for keeping such an up to date registry and Kidston for sharing an owners view! Videos come from BabyloNordschleife. Finally, a huge thanks to Swisscarsightings.com for an awesome set of photos, check them out here.